9/1/2016 Julia Sullivan, ECE ILLINOIS
An unprecedented number of new faculty members have joined ECE ILLINOIS this year. Experts in their respective fields, their interests range from cryptocurrencies to new generation optical sensors.
Among the many new faces on campus this year are an unprecedented number of new ECE faculty members. Ten new tenure-track faculty members and one new research professor have joined ECE ILLINOIS, bringing with them insights and interests in emerging fields, ranging from Bitcoin and distributed systems to new generation optical sensors.
Additionally, there are 5 new tenure-track faculty who have accepted offers and will arrive by January 2017. This group represents the largest increase of new faculty in a single year in recent memory.
Haitham Al-Hassanieh
PhD, Massachusetts Institute of Technology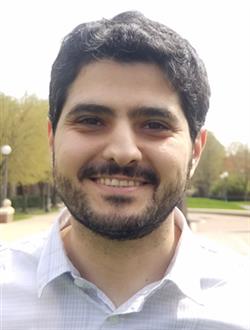 Assistant Professor Haitham Al-Hassanieh (PhD '16) came to ECE ILLINOIS from MIT in spring 2016. His research centers on systems and networking, with a focus on wireless networking and mobile communication and sensing. His work on the Sparse Fourier Transform was recognized by Technology Review as one of the ten breakthrough technologies of 2012.
His previous work includes building wireless systems and designing networking protocols for low power wireless networks such as RFIDs and implantable medical devices. He also developed algorithms to reduce the power consumption on GPS receivers and build RF radios that can capture GHz of spectrum without sampling at Nyquist while using only a few low speed ADCs.
Subhonmesh Bose
PhD, California Institute of Technology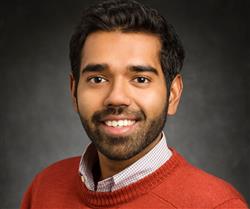 Assistant Professor Subhonmesh Bose (PhD '14) joined ECE ILLINOIS in spring 2016. Prior to joining Illinois, he was an Atkinson Center Postdoctoral Fellow in Sustainability at the Department of Electrical and Computer Engineering at Cornell University.
His current research interests lie in understanding the operation and economics of modern power systems, leveraging tools from convex optimization, control theory, microeconomics, and game theory. Some specific questions include optimizing production costs against Kirchhoff's laws, understanding strategic interaction in electricity markets using networked oligopoly models, characterizing the value of energy storage in power systems, and designing market mechanisms in electricity markets with variable renewable supply.
Peter D. Dragic
PhD, University of Illinois
Assistant Professor Peter D Dragic (PhD '99), who joined our faculty in fall 2016, has over 100 archival journal and conference papers in a wide range of subjects covering components and glass science up to complete electro-optical systems, including fiber lasers, LIDAR, and distributed sensing systems. He holds 14 U.S. patents, with several pending, in the area of optical fiber technology.
He is an expert in fiber measurements and has developed new techniques to experimentally characterize both conventional and novel optical fibers with widely-ranging characteristics. Coupled with new modeling approaches, this has led to the development of several new fibers for applications in fiber lasers, communications, and distributed sensing.
Liang Gao
PhD, Rice University
Assistant Professor Liang Gao (PhD '11) joined ECE ILLINOIS in summer 2016. His primary research interests are microscopy (including super-resolution microscopy and photoacoustic microscopy), cost-effective, high-performance optics for diagnostics, computational optical imaging, ultrafast imaging, and multidimensional optical imaging.
He leads the Intelligent Optics Laboratory (iOptics), developing state-of-the-art imaging and display technologies for intelligent devices, such as smart glasses and drones. Specifically, the iOptics Lab will research multi-dimensional imaging technologies, near-eye 3D display, and biomedical optics. The group has a strong interest in developing innovative imaging solutions for healthcare and biomedicine.
Viktor Gruev
PhD, Johns Hopkins University
Associate Professor Viktor Gruev (PhD '04) joined our faculty in fall 2016 from Washington University in St. Louis. He holds 5 patents related to imaging technologies. His primary research area is in imaging technologies, algorithms, and their applications to biomedical problems. His lab focuses on integrating novel nanomaterials with CMOS or CCD technology to achieve very sensitive imagers. In particular, his lab has pioneered compact polarization and multi-spectral imaging sensors. This technology has successfully undergone clinical translation in the operating room and is helping physicians in early diagnosis of colorectal cancer and other cancers. In addition, his technology is used in remote places such as the Great Barrier Reef for better understanding of marine life.
Daniel S. Katz
PhD, Northwestern University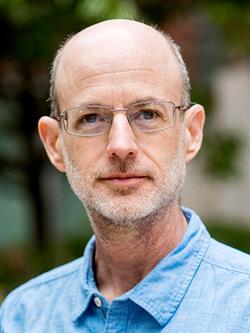 Research Associate Professor Daniel S Katz (PhD '94) is interested in the development and use of advanced cyberinfrastructure to solve challenging problems at multiple scales. His technical research interests are in applications, algorithms, fault tolerance, and programming in parallel and distributed computing, including HPC, Grid, Cloud, etc. He is also interested in policy issues, including citation and credit mechanisms and practices associated with software and data, organization and community practices for collaboration, and career paths for computing researchers. His work is documented in numerous book chapters, journal and conference publications, and NASA Tech Briefs. He is a senior member of the IEEE and ACM, designed and maintained (until 2001) the original website for the IEEE Antenna and Propagation Society, and serves on the IEEE Technical Committee on Parallel Processing's Executive Committee and the steering committees for the IEEE Grid, Cluster, and e-Science conference series.
Minjoo Larry Lee
PhD, Massachusetts Institute of Technology
Associate Professor Minjoo Lawrence Lee (PhD '03), who joined our faculty in fall 2016, was a postdoctoral researcher with the Microsystems Technology Laboratory at MIT, and he was with the Center for Thermoelectrics Research at RTI International in Durham, North Carolina, before joining Yale University as an assistant professor of electrical engineering.
He is the author or co-author of over 120 technical papers and conference proceedings, and he holds nine patents. He has received numerous recognitions including the IBM Faculty Award, the North American Conference on MBE (NAMBE) Young Investigator Award, the Lange Lectureship in Materials at UCSB, the DARPA Young Faculty Award, an NSF CAREER award, and the IEEE Electron Device Society George E. Smith Award.
Andrew Miller
PhD, University of Maryland
Andrew Edmund Miller (PhD '16) joined ECE ILLINOIS as an assistant professor in fall 2016. Widely recognized as a Bitcoin expert, he is an influencer in both the academic community and the community of Bitcoin developers and aficionados. His early research focused on cryptocurrencies, and he is one of the most prolific researchers in the field. He is also interested in distributed systems, programming languages, and cryptography, with an emphasis on peer-to-peer networks and emergent decentralized systems.
He has presented nearly 20 talks, including at the 2014 IEEE Symposium on Security and Privacy, where he presented a paper he co-authored focused on repurposing Bitcoin for long-term data preservation.
Alexander Schwing
PhD, ETH Zurich
Assistant Professor Alexander Gerhard Schwing (PhD '14) came to ECE ILLINOIS in fall 2016 from University of Toronto, where he was a post-doctoral fellow. His research is centered around machine learning and computer vision, including exploring techniques such as conditional random fields, structured support vector machines, and deep learning to extract information from data.
Specifically, he is interested in inference and learning algorithms for multivariate and structured distributions that model real world data. He focuses on distributed algorithms for high performance computing environments, extracting information from weakly- and un-labeled data, and structured prediction algorithms working with data from multiple modalities. 3D scene understanding from a single image is an important application for all three areas.
Yurii Vlasov
PhD, Ioffe Institute
Yurii A Vlasov (PhD '94) joined ECE ILLINOIS in spring 2016 as a Founder Professor of Engineering. He established two experimental labs: the first focused on integrated photonics for biomedical applications; the second lab is dedicated to experimental systems neuroscience. These two main directions reflect his current interest in applications of engineering solutions to life sciences.
Prior to joining ECE ILLINOIS, he held various research and managerial positions at the IBM T.J. Watson Research Center in New York where he led broad company-wide efforts in integrated silicon nanophotonics and more recently in neuromorphic computing architectures.
Zhizhen (Jane) Zhao
PhD, Princeton University
Assistant Professor Zhizhen Zhao (PhD '08) joined ECE ILLINOIS in fall 2016. Prior to that, she was a Courant Instructor at the Courant Institute of Mathematical Sciences, New York University.
Her research interests include applied and computational harmonic analysis, signal processing, dimensionality reduction, information theory, scientific computing, and their application to imaging sciences and inverse problems in structural biology and atmospheric and oceanic sciences.