Ilie selected to receive NASA Heliophysics early Career Investigator Award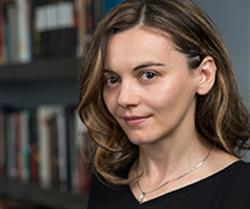 ECE ILLINOIS Assistant Professor Raluca Ilie was selected as one of the recipients of the NASA Heliophysics Early Career Investigator Award. The Early Career Investigator Program (ECIP) is designed to support outstanding scientific research and career development of scientists and engineers at the early stages of their professional careers. This program aims to encourage innovative research initiatives and cultivate diverse scientific leadership in Heliophysics.
Nitrogen constitutes 78% of the Earth's atmosphere and is a key element in amino acids and living organism. Atmospheric molecular nitrogen is cycled into the Earth's surface by various biological and inorganic processes. However, there is very little known knowledge of the fate of atmospheric nitrogen, compared to oxygen, above 2000 km in altitude.
Ilie's work will quantify, for the first time, the differential transport of nitrogen and oxygen ions from the terrestrial atmosphere up to 200,000 km altitude.
"Understanding the differential transport of nitrogen and oxygen ions throughout the ionosphere-magnetosphere region can provide knowledge of exospheric morphology, which at this time is unknown, and ionospheric physics since ionosphere-exosphere-magnetosphere coupling is controlled by the ionization at the topside ionosphere, which is strongly dependent on external driving," said Ilie.
Furthermore, Ilie's work could provide clues regarding the planetary atmospheric evolution, by providing hints about variation in the nitrogen budget with solar activity over geological scales time periods.