ECE ILLINOIS research wins at CS MANTECH
ECE ILLINOIS researchers took home three top awards at the Compound Semiconductor Manufacturing Technology (CS MANTECH) 2018 conference. The CS MANTECH conference is primarily focused on compound growth and fabrication companies, including those who work with semiconductor lasers.
Bayram and Liu
ECE ILLINOIS Professor Can Bayram and PhD student Dicky Liu were recently awarded the Best Paper Award at the International Conference on Compound Semiconductor Manufacturing Technology (CS MANTECH) Conference. In addition, out of 22 student presenters, Liu's conference talk titled "Cubic Phase GaN Integrated on CMOS-Compatible Silicon (100)" was voted as the top talk by all the conference attendees. With to its widely-tunable bandgap, high breakdown voltage, and high saturation velocity, GaN semiconductors offer unique opportunities for ultraviolet-visible-infrared photonics and high-power transistors. However, GaN photonic and other electronic devices are almost always made of the thermodynamically stable hexagonal (i.e. wurtzite) material phase. Due to the lack of inversion symmetry in this hexagonal (h-) phase GaN lattice structure, such devices possess polarization fields that are detrimental to photonics through separation of electron and hole carriers, reducing the internal radiative recombination.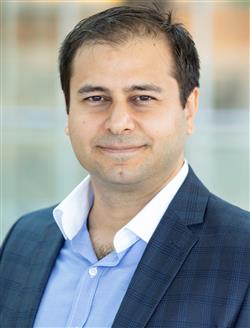 In their awarded work, Liu and Bayram report a novel material, Cubic (c-) GaN, that is polarization-free. They also introduce a new method of cubic phase GaN synthesis, hexagonal-to-cubic phase transition, through regrowth of GaN on novel nano-patterned on-axis, CMOS compatible Si(100) substrates via metalorganic chemical vapor deposition. Based on their experiments, phase transition cubic GaN shows excellent purity, reproducibility, and scalability, in line with crystal growth modeling. Thus, such cubic GaN has revealed its potential to become the substrate of choice for next-generation polarization-free photonics integrated on Si(100). Bayram is also affiliated with the MNTL.
Read the awarded work here.
Dallesasse, Su, and Carlson
ECE ILLINOIS graduate students John Anthony Carlson, II and Patrick Su were honored with the Best Poster Award at the 2018 CS MANTECH conference.
Funded by an NSF grant called E2CDA (Energy Efficient Computing from Devices to Architecture), they sought to design a system of electronic-photonic circuits based on the transistor laser. Advised by ECE ILLINOIS Associate Professor John Dallesasse, their first task on this project was to devise the method by which they would integrate the III-V semiconductor material suitable for lasers onto the silicon which is used for CMOS electronics.
Heterogeneous integration of materials is currently a major bottleneck in the industry, so they addressed this issue by noting how their method could have direct applications to other popular research topics such as integrated photonics and silicon photonics.
Their work is creating a method that allows for integrated devices, as opposed to the more common method of creating single discrete devices on bulk substrates. Carlson and Su's poster focused on this process, its scalability, and its suitability for forming their electronic-photonics devices. View the details of the poster here.