Phase-transition cubic gallium nitride doubles UV emissions efficiency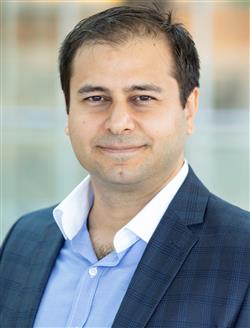 With a growing global desire to enhance energy efficiency and reduce electricity consumption, new photonics materials are becoming even more important nowadays. As ECE ILLINOIS Assistant Professor Can Bayram puts it, "who doesn't want to consume less electricity for the same quality of lighting?"
Bayram recently led the Innovative COmpound semiconductoR Laboratory (ICOR) team to publish a paper titled "High internal quantum efficiency ultraviolet emission from phase-transition cubic GaN integrated on nanopatterned Si(100)." PhD candidate Dicky Liu, advised by Bayram, was the lead author. The team discovered that cubic GaN, or III-Nitrides, one of the most exotic photonic materials, displays a hexagonal to cubic phase transition process. According to their research, the emission efficiency of optimized cubic GaNis about 29 percent, in comparison to the 12 percent, 8 percent, and 2 percent exhibited by conventional hexagonal GaN on sapphire, hexagonal free-standing GaN, and hexagonal GaN on silicon respectively. Their work has been published in Compound Semiconductor and Semiconductor Today.
Bayram said, "new photonic materials are critical in next-generation energy conversion devices. GaN-on-Si, enabled though phase-transition technology, provides an efficient, scalable, and environmental solution for integrated visible photonics." Bayram is also affiliated with the MNTL.
Check out the MNTL page for more information.