ECE alum becomes NSF Graduate Fellow
The National Science Foundation's (NSF's) Graduate Research Fellowship Program is the oldest graduate fellowship given to students who show promise of becoming knowledge experts who will contribute significantly to science and engineering. One of this year's recipients is Illinois ECE alum Dennis Rich (BSEE '19), who hopes to use the award as a springboard for the rest of his career.
"I'm interested at this point in doing research for the rest of my life, probably in an academic context as a professor at a research university,"said Rich, currently a second-year graduate student in electrical and computer engineering at Stanford University. "I view this as a very important step in developing my skills in communicating ideas effectively, in having ideas that other people care about and refining those ideas through collaboration. All the skills I learned in writing the proposal are relevant to any research career path I choose to take."
Rich's proposed research in the award application involves finding a solution to cool down 3D computer chips. He would like to use the metallization layer technology that transmits electrical signals between transistors to more efficiently transmit the heat they produce out of the chip. This, he claims, is an important component of enabling many-layer 3D chips, which are currently limited by overheating.
The work is different than the research he did as an undergraduate under Illinois ECE Associate Professor and Adviser Can Bayram, but Rich says there are plenty of skills that transfer from his time at Illinois.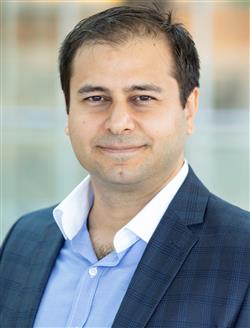 "Professor Bayram was instrumental in teaching me to be meticulous, making sure every step is repeatable in the processing of wafers," said Rich. "Even though the samples I'm making today are a bit different, the skills I learned with him help me make sure they give me the best data possible."
Funding from the fellowship last for three years, with the fellowship itself extending for five years, making it a lengthy commitment from NSF to Rich's career development. Bayram believes Rich will continue to be a success long after the fellowship ends.
"This is an excellent example of how research experiences help our undergraduates advance their careers," said Bayram, HMNTL faculty member. "I am glad that Dennis's past work and future contributions are recognized by the NSF. The research freedom that comes with the graduate research fellowship will allow him to take greater risks in research, which then will lead to further innovations."
Bayram is affiliated with the HMNTL.
Read the original article on the HMNTL site.