Bayram wins IEEE Electron Devices Society's Early Career Award
The IEEE Electron Devices Society presented ECE Assistant Professor
Can Bayram
with one of its highest honors: the Early Career Award. The citation expressed a "deep appreciation of his early career technical development."
Bayram noted that this annual award is designed to promote, recognize, and support one early career professional's achievement within the Electron Devices Society's field of interest. The award comes with a certificate and a check for $1,000.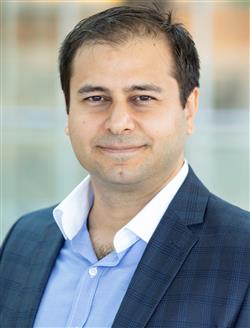 Bayram joined ECE ILLINOIS over the summer, and said he was both privileged and honored to have received the award, and was proud of being the first from Illinois to have won it, given the global competition.
"I'm glad that I, and our ECE department, have been recognized via this honor by the IEEE, which further emphasizes the great work that we're doing here," Bayram said. "There's amazing research going on within ECE, and I'm proud to be a part of it."
Prior to Illinois, Bayram carried out postdoctoral studies at IBM Thomas Watson Research Center, NY and earned his doctorate from Northwestern University.
During his doctoral years, Bayram tackled what he calls the "green gap" problem in lighting. He said the most energy-efficient kind of white lighting is based on color mixing: combining the three primary colors of light: blue, green, and red. Despite the availability of high performance blue and red LEDs, green ones are still far from adequate for lighting use, bottlenecking this approach.
With the addition of high-quality green LEDs, the energy cost to produce white light is dramatically reduced, which enables energy-efficient LED lighting to be much cheaper and more widespread.
At IBM, Bayram pursued his passion for LED lighting, and developed thin-film LEDs. Thin film LEDs can emit more light per input power than traditional LEDs as they waste much less power as emitted heat. Bayram noted that our daily lighting needs force LED devices to operate at power densities five times more than those of computer CPUs. Thus, getting rid of heat effectively with the thin-film approach is critical. According to Bayram, such thin LED structures are also flexible making them suitable for biomonitoring, biomanipulation, and biointegration, with promising applications in the federal government's BRAIN Initiative and the field of optogenetics, or using light to control neurons in the brain.
Though Bayram has accomplished significant research contributions and been recognized with a prestigious early career award, his eyes are set on the future as he is
establishing a research lab
in the Micro and Nanotechnology Laboratory with an atmosphere of innovation around these new research areas.
"I'm very much hoping that our work will continue to impact lives as we move forward in such an excellent academic environment," Bayram said. "I'm honored to have received such a prestigious recognition and that am surrounded by excellent students, staff, and faculty that Illinois attracts as we all together steer the next generation technologies."