Liang receives recognitions for contributions to medical and biological engineering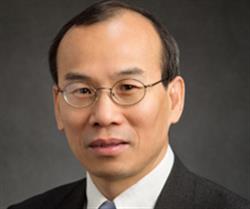 ECE Professor Zhi-Pei Liang was honored with two great accolades recently: he was selected to receive the 2012 Otto Schmitt Award from the International Federation for Medical and Biological Engineering (IFMBE) and was elected to the International Academy for Medical and Biological Engineering.
The Otto Schmitt Award is given for "exceptional contributions to the advancement of the field of medical and biological engineering" according to the IFMBE website. The International Academy for Medical and Biological Engineering is a part of IFMBE, and it elects new members to the Academy once every three years from those who "have distinguished themselves in the field of medical and biological engineering," according to its website. Liang is among the 26 members worldwide elected to the Academy this year.
"It's great. It's a good recognition of our work," Liang said of the two honors. He stressed that he would not have been successful without the people surrounding him at ECE ILLINOIS and at the Beckman Institute for Advanced Science and Technology. "Whatever I've done is not possible without Illinois, without the wonderful colleagues and students," he said. "I'm blessed to be a faculty member here. I'd like to take this opportunity to thank my colleagues and my former and current students for making these awards possible."
Liang was cited for work he has done with magnetic resonance imaging (MRI). "We have been working on MRI for more than 20 years," he said. "Over the years we have done a few cool things [including] new methods and algorithms to make high-resolution, high-speed MRI possible."
Liang said that the University of Illinois is the perfect place to do his research. "Illinois is really a very special place to do MRI work because of the unique academic and research culture created by pioneers in the field," which included Nobel Prize winner Paul Lauterbur, with whom Liang worked for 17 years.
Liang has been working in the MRI field for over 20 years, and he still enjoys his research. "It's my love," he said. "Even though so much work has been done by many great people in the field, MRI is still a very vibrant field with many exciting opportunities."
Liang and his research group are actively taking advantage of those opportunities to develop advanced technologies for next-generation MRI systems that can have significant impact on healthcare.
In addition to his research and teaching activities, Liang shoulders big responsibilities in professional societies. He was elected to the Administrative Committee of the IEEE Engineering in Medicine and Biology Society (EMBS) in 2003, the largest member-based international society on biomedical engineering. He is currently serving a two-year term as the president of IEEE-EMBS. Liang is also serving as a deputy editor of Magnetic Resonance in Medicine, the flagship journal of International Society of Magnetic Resonance in Medicine.