Jianming Jin wins Chen-To Tai Award from IEEE APS
ECE News
Ashish Valentine, ECE ILLINOIS
9/28/2015
Story Highlights
Professor Jianming Jin has won the Chen-To Tai Distinguished Educator Award from the IEEE Antenna and Propagation Society.
Jin personalizes his teaching to tailor the courses to the needs of his graduate students and has authored three textbooks specifically for his students
The award is special to Jin because Chen-To Tai was his adviser when Jin was a graduate student at the University of Michigan at Ann Arbor.
Professor Jianming Jin won the Chen-To Tai Distinguished Educator Award from the IEEE Antenna and Propagation Society. Jin teaches graduate courses in electromagnetic theory and computational electromagnetics, and has been at Illinois for 22 years.
The Chen-To Tai award was established "to recognize outstanding career achievements by a distinguished educator in the field of antennas and propagation," according to the IEEE Transactions on Antennas and Propagation.
From the beginning of his teaching career, Jin has endeavored to make his lessons practical and applicable to his students' daily lives. His teaching philosophy relies upon using examples extensively and making sure to tie abstract theory into interesting engineering applications, so students can always apply their learning.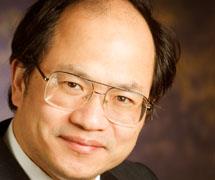 "In terms of teaching I always emphasize the fundamentals, but at the same time want to challenge my students to their best potential," Jin said. "I always think that even with the development of several new technologies, the fundamentals are the most important. At the same time we need to keep students challenging themselves so they can think in class, instead of just sitting and listening."
His students have responded favorably: in his 22-year teaching career at Illinois, he secured a place on the List of Teachers Ranked Excellent by their Students 22 times.
Apart from working to constantly explain theoretical concepts in a practical fashion, Jin has personalized his teaching to expressly fit the needs of his graduate students. He has authored three textbooks, one of which is now in its third edition, specifically for his graduate students to use while taking his courses.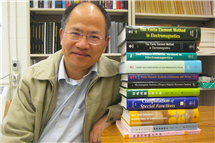 He has also developed numerous new courses in electromagnetics, which have since been instituted at other universities. His first textbook, The Finite Element Method in Electrodynamics, first published in 1993, went on to sell more than 10,000 copies. Its 1998 Chinese translation has gone on to become required reading at several universities in China.
Beyond authoring books for his students, Jin continually searched for new ways to make his subject more applicable and relatable to students. He created hundreds of viewgraphs, or short video demonstrations, of electromagnetic phenomena, to accompany his lessons so that students could gain more insight into the physics behind what they were learning.
Jin has, during a 10-year period, created more than 800 of these viewgraphs, and has shared them for educational use with colleagues around the world.
Of all of the accomplishments of his career, however, Jin is the most proud of his students themselves, who he mentioned always devote themselves to working hard in his courses year after year.
Jin is proud the award recognizes him as a distinguished educator. It also holds special significance to Jin because of his close relationship with its namesake, who served as his mentor at the University of Michigan at Ann Arbor.

"This award is actually very special to me because Chen-To Tai was my adviser when I was a graduate student at Michigan, we got together very frequently and always discussed problems in our research and also how to teach electromagnetics to the students," Jin said. "More than just as an academic mentor, though, he was like a father to me: he not only cared about my professional development, but also about my daily life. He wasn't afraid to point out simple things, from giving me pointers with my research to even letting me know if I needed a shave."

Along with his gratitude to Chen-To Tai, Jin also feels indebted to the faculty who advised him when he first started teaching at Illinois, as well as to ECE ILLINOIS as a whole.

"I feel lucky that I joined the faculty at Illinois, that it's this university that gave me the opportunity to practice my teaching and do my research," Jin said. "I have learned a lot from my colleagues. For example, I learned a lot about how to teach various topics from people like (late Professor) Shun Lien Chuang and Weng Cho Chew. I have had amazing senior colleagues here. Their teaching philosophies always inspired me to always do the best I could for my students."