Osuagwu's research with iCub robot focuses on language learning
ECE News
Doug Peterson, ECE ILLINOIS
4/3/2015
Story Highlights
Bert is an iCub robot that is learning language in the way a human child does. Beckman's Language Acquisition and Robotics Group is teaching Bert language by continually exposing it to chatter, and letting it automatically learn communication rules.
The iCub was built in Italy and came to Illinois in 2010. The team hopes to find ways to learn and respond to language semi-independently, rather than having behaviors and knowledge pre-programmed in.
The iCub has a body similar to a 4-year-old boy, and learns much the same way. It started learning with motor skills in the same way that newborns first learn how to interact with the space around them.
Pinnochio dreamed of becoming a real boy, but Bert, the iCub robot, will settle for learning how to respond to language at a rudimentary level.
Bert has large, expressive eyes that can track moving objects by color and size, and he knows how to wave in response to a verbal command. He also has the body of a 4-year-old boy, assuming that you're talking about a boy with a body made of wires and plastic and that contains more than 50 motors to control its movement.
"Our goal is to get the iCub robot to learn language in a natural way," says Onyeama Osuagwu, a PhD student and member of ECE ILLINOIS' Language Acquisition and Robotics Group, led by Professor Stephen E Levinson. The idea is for Bert to pick up language as a child does, by continually being exposed to chatter all around him.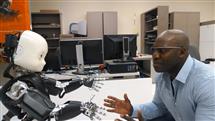 The iCub was built by a consortium in Italy and first came to the Illinois campus in 2010. It is the only iCub robot in the Western hemisphere, Osuagwu says, and it came out of the box as a simple robot with few capabilities. "It was fertile soil," says Osuagwu, who hopes to find ways to get Bert to understand language and respond to words in a semi-independent way, rather than by pre-programming all of its behaviors and responses. He wants to make it more human in its interactions.
Osuagwu is among five ECE ILLINOIS graduate students working with the iCub, although many others have studied Bert on the way to completing undergraduate and graduate degrees. For instance, Lydia Majure (BSEE '06, MS '09, PhD '13) worked with Bert to study "motor babbling," in which the robot learns to gain control over the movement of his arms and hands, much the way human newborns first learn how to interact with the space around them.
In addition, Logan Niehaus (MS '11, PhD '14) taught the iCub to respond to verbal commands, while current graduate student Jacob Bryan even taught Bert to sing "Jingle Bells" for the Beckman Institute for Advanced Science and Technology's 2013 holiday greeting. Bert and the Language Acquisition and Robotics Group will also be featured in an upcoming movie from National Geographic called Robots 3D.
As Osuagwu focuses on language acquisition, he says he has moved from what he calls the "I love brains" phase of his research to, "Brains: who needs them?"
By this, he means that he initially aspired to copy the body's brain by creating the electronic equivalent of neurons. But, as he explains, this task was like "putting a very large square peg in a very small round hole." He discovered that although it is possible to use transistors to mimic some of the activity of neuronal networks, the fact remains: "transistors are not neurons."
Today, his research focuses more on "functional equivalency," a term connected to the famed computing pioneer Alan Turing.
"The argument," Osuagwu says, "is that if you want to design something modeled on another thing, you don't have to build it step-by-step as a replica. You want to replicate the functionality, and not necessarily the form."
However, even though you do not have to recreate the brain, he says it is still important for machine intelligence to have a physical body of some sort. A key principle of the Language Acquisition and Robotics Group is that there is no such thing as a disembodied mind. To learn, the mind should be anchored in a physical form that integrates various senses.
Bert uses several senses, with microphones for ears and cameras for eyes, and researchers are hoping to develop for him touch sensitivity, to distinguish between soft and hard objects. But even with a robot that has such abilities, the great challenge is finding ways for Bert to learn as a child might, Osuagwu says. "In my research, I bang my head against walls for a living," he adds, "but every now and again I see cracks in the wall, so I'm hopeful."
This story first appeared in the Spring 2015 issue of Resonance, ECE ILLINOIS' biannual magazine.