In August 2017, Illinois launched a new, unified visual identity. By using these consistent brand guidelines, we can help tell the Illinois story together. The Illinois ECE brand guidelines and resources have been revised to align with these campus-wide changes.
Illinois ECE Logos and Colors
Along with the approved campus logo, all websites and materials should prominently include the department logo. Preferred colors are those that match University branding. For other materials branded with the department name, please use the provided templates or contact Assistant Director of Communications Julia Sullivan for assistance.
Official University of Illinois Colors
Illinois Creative Services provides the official orange and blue to be used on all materials. Pantone or CMYK values should be used for print, and RGB or HEX values should be used for digital applications.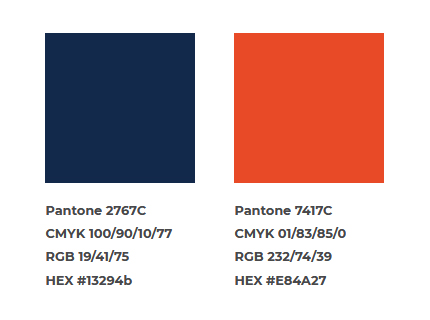 Referencing the Department
When writing for external audiences, writers should use the full, formal name, Department of Electrical and Computer Engineering at University of Illinois at Urbana-Champaign, the first time the department is mentioned. Later references should use Illinois ECE. Note that Illinois ECE is always in all caps, even in body text.
When referencing the university, UIUC is no longer preferred. Instead, use Illinois for campus communications and second references.
Digital Sign Template
Do you have an event to share with the Illinois ECE community? Submit a request through our announcement portal, which requires an Illinois Active Directory login. To include your own digital screen design, submit a 16 x 9 scaled JPG or PNG. The digital slide template (.pptx) can help.
Poster Header
The Illinois ECE poster header (JPG) was designed to ensure consistent branding for your poster presentations. It is 48" wide and can be scaled down to fit your poster.
Illinois ECE Digital Letterhead
This Word document reflects the most recent campus-wide branding and should be used in place of previous verisons for official correspondance. Printed letterhead can be ordered through Document Services.