2008 Marcia Peterman ECE Award
In recognition of devoted and loyal service to the University of Illinois and the Alumni Association.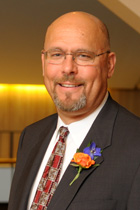 Mike Winberg enjoyed a 24-year career at Texas Instruments (TI). For 22 years, Mike worked in Sales and Marketing at TI, where he held several positions, including manager of global business and operations for TI's Motorola account. Mike began his career as a product engineer for TI.
Mike served on the ECE Alumni Board From 2001 to 2006. During that time he participated in the freshman calling program, student receptions, and mock interviews. Mike has been a passionate advocate of ECE, working to help broaden the department's connection to industry, and helping current students at every turn. He has been a key liaison for the TI & Illinois relationship over many years.
Mike is married with two children and lives in Wheaton, Illinois.