1998 Distinguished Alumni Award
In recognition of outstanding leadership in development of radio and land mobile products and distinguished social services.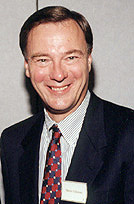 Merle Gilmore (BSEE '70) joined Motorola in 1970 and has steadily risen within the company and now is executive vice president and president of communications enterprise. He has been awarded five patents and held several managerial positions, including president of the Land Mobile Products Sector. Active in community service, Gilmore was elected to the Board of Trustees for the Chicago Educational Television Association and recently served as state director of the National Association of Manufacturers, a large trade organization.