2014 Distinguished Alumni Award
For the invention of trench power MOSFET technology and entrepreneurial leadership in the development of mixed power and signal integrated circuits.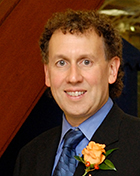 An acknowledged device physics expert in power management and IC technology, Richard Williams has invented many landmark products. He co-founded AnalogicTech in 1998, which was at the frontline of the mobile applications boom, and it quickly became a leader in power management for those devices.
Since selling his company AnalogicTech in 2012, he has established two new startup companies, Applied BioPhotonics and Adventive Technology, based in Hong Kong and Taiwan, with subsidiaries around the world. He invented and developed several milestone devices, including an airbag controller IC for Mercedes-Benz, a LiIon battery disconnect switch for Sony and Apple Computer, and the first production trench power MOSFET.
Richard holds more than 200 U.S. patents in device, process, package, circuit, system, and application methods and apparatus, and has written more than 100 published articles and invited papers. He is a member of IEEE.
A three-term ECE Alumni Association board member, Richard served from July 1996 to July 2006. He was the western region vice president for his second and third terms, starting in July 1999.
In addition to his Illinois degree, Richard holds an MS in electrical engineering from Santa Clara University.