2014 Distinguished Alumni Award
For leadership and pioneering achievements in computer software education, the software industry, and for his promotion of entrepreneurship.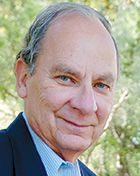 Leon Presser was a member of the Computer Science faculty of the University of California (UCLA and UCSB) for more than eight years. He co-edited and co-authored one of the first books on computer science. He left the university to become an entrepreneur.
Leon founded Softool Corporation, a successful software tools company that, among other product lines, designed and marketed a family of software tools to manage change. These change-management tools led to the creation of a whole new segment of products in the software industry. He also co-founded Compass Corporation, a successful software services company. He has also been an investor in start-ups in different industries.
In 1989, Software Magazine listed Leon as one of the 100 people who have had the greatest impact on the software industry. In 1992, he was honored at the White House by President George H. W. Bush. In 2010, Leon wrote the book, What It Takes To Be An Entrepreneur, to provide prospective and current entrepreneurs with a pragmatic overview of what is involved in being an entrepreneur and to help them improve their chances of success. Currently, he lives in semiretirement, actively involved in various community activities.
Leon also earned an MS in electrical engineering from the University of Southern California and a PhD in Engineering (Computer Science) from the University of California at Los Angeles.