2013 Distinguished Alumni Award
For leadership in the education of the next generation of business leaders, and research on the analysis of business performance.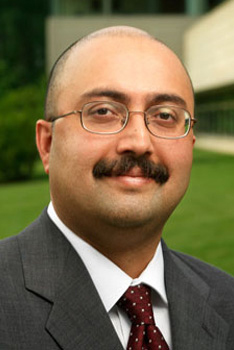 Sunil Kumar is the dean and George Pratt Shultz Professor of Operations Management at University of Chicago Booth School of Business. He researches manufacturing and service systems and operations research and management. He has demonstrated leadership in designing and implementing MBA programs and has led innovations in educational methods and technologies.
Sunil joined the Chicago Booth faculty in 2011 after spending 14 years on the faculty of the Stanford University Graduate School of Business, where he was the Fred H. Merrill Professor of Operations, Information, and Technology. Sunil received a master's degree in computer science and automation from the Indian Institute of Science in Bangalore and a BS from Mangalore University in Surathkal, India.
Sunil's research interests include performance evaluation and control of manufacturing systems, service operations, and computer networks. He has published scholarly research articles in top peer reviewed journals including Management Science and IEEE Transactions on Automatic Control. Recognition for Sunil's success includes the distinguished teaching award letter of commendation at Stanford University and being named Professor of the Year at the Indian School of Business in Hyderabad. He is a several-time recipient of the Meritorious Service Award for operations research.