2010 Distinguished Alumni Award
For contributions to engineering education and the safety of first responders.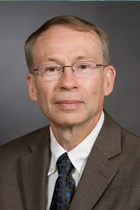 John Orr is professor of electrical and computer engineering at Worcester Polytechnic Institute and served as provost of WPI from 2007 through June 2010. Prior to this he held the position of dean of undergraduate studies. John joined the faculty of WPI in 1977 and served as head of the Electrical and Computer Engineering Department from 1988 to 2003.
In his PhD work at Illinois John performed some of the earliest research on fading effects on CDMA systems. He began his professional career at Bell Laboratories in Holmdel, New Jersey, in the area of visual communications.
His research interests span several aspects of digital signal processing. Recent work is in the area of positioning systems, particularly precision personnel tracking in the indoor environment, leading to numerous publications and one patent on an algorithm for optimal positioning in a high multipath environment.
His other professional interest is in the area of engineering education where he has led the development of several innovative programs including an immersive first-year experience in the "great problems" of engineering and a graduate level interdisciplinary program in computer networking. He is past president of the Electrical and Computer Engineering Department Heads' Association, and a past member of the Board of Governors of Eta Kappa Nu, and of the Board of Directors of IEC. He is a member of the ABET Engineering Accreditation Commission. He is a Fellow of the IEEE and of the American Society for Engineering Education.