2008 Distinguished Alumni Award
For strategic, technical, and business leadership in the microprocessor and storage industry.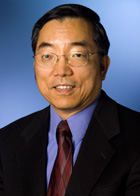 David Yen came to Juniper from Sun Microsystems, Inc., where he served in a broad range of executive assignments during his nearly 20 year tenure. Most recently, Dr. Yen served as executive vice president of the Microelectronics group, which is the silicon and processor supplier to Sun's Systems business and OEM customers around the globe. Prior to this role, Dr. Yen led Sun's storage group and served as vice president and general manager for its enterprise server business, executive vice president of processor and network products, and executive vice president of scalable systems. Under Dr. Yen's leadership, Sun unified its microprocessors, enterprise systems, and SPARC-based volume systems initiatives, and drove product development, strategy, marketing and overall business management. Prior to joining Sun Microsystems in 1988, Dr. Yen was co-founder and director of hardware development of Cydrome, Inc., a mini-supercomputer start-up, and served in engineering roles at IBM Research for manufacturing automation and TRW, Inc. for advanced processor development.
Dr. Yen earned a bachelor's degree in electrical engineering from National Taiwan University in 1973, received an M.S. and PhD degree in electrical and computer engineering from the University of Illinois at Urbana-Champaign in 1980, and completed a General Management Program at Stanford Business School in 1993. Dr. Yen holds three U.S. Patents.