2007 Distinguished Alumni Award
For contributions to the development of VLSI systems, and to the development and management of high technology ventures.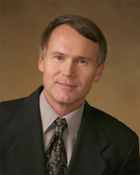 As the vice president of intellectual property licensing for Hewlett-Packard, Joe Beyers is responsible for creating and driving an HP intellectual property strategy and initiatives to increase the value realized by HP from its IP portfolio. Joe has also been prominent in promoting changes in the US patent system, speaking at conferences on IP licensing, and is the author of a chapter in a book on intellectual property licensing, "Making Innovation Pay. "
In his 32 years with HP, Joe has had a wide variety of roles in the company. As a new electrical engineering graduate from Illinois, his first assignment in HP was development of the operating system for HP's first desktop computer. He received a patent on the fundamental concept of a user being able to use the keyboard of a desktop computer while an application is running on that computer. As director of the Integrated Circuit Design Technology Center at HP, Joe was the lead inventor of the world's first 32-bit VLSI computer chip—a chip that was several times more complex than any VLSI chip at the time. He then initiated HP's first reduced instruction set architecture (RISC) VLSI chip design, which today is the basis of HP's PA-RISC microprocessors and its follow-on Itanium 64 bit processors.
As vice president and general manager of HP's Internet Business Unit, Joe was responsible for HP's Internet software products including Internet security, imaging, embedded JAVA, e-commerce software, e-business solutions, and Internet financial transaction systems (VeriFone). His other roles at HP have included responsibility for strategic planning of HP's computer and printing businesses, mergers and acquisitions for the company, and a two year assignment as the vice president of strategic marketing for Taligent, a software joint venture between HP, IBM, and Apple.