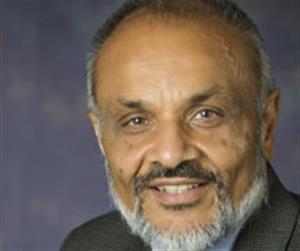 Administrative Titles
Donald Biggar Willett Professor Emeritus
(217) 333-6201
250 Coordinated Science Lab
For more information
Education
PhD - Electrical Engineering, Stanford University 1976
Biography
Patel's research contributions include Pipeline Scheduling, Cache Coherence, Cache Simulation, Cache Data Prefetch, Multiprocessor memory modeling and analysis, Interconnection Networks, On-line Error Detection, Reliability analysis of memories with ECC and Scrubbing, Design for Testability, Built-In Self-Test, Fault Simulation and Automatic Test Generation. Patel is the inventor of the well known Illinois Cache Coherence Protocol and Illinois Scan Architecture, both are used heavily in most modern microprocessors. In addition, his Stride Prediction based Data Prefetch is the basis for nearly all data prefetch techniques used in most current microprocessors. Patel has supervised over 85 M.S. and Ph.D. theses and published over 200 technical papers.
During his academic stay at Illinois, Patel has had a major role in two start-ups. First was as founding technical advisor to Nexgen Microsystems, which gave rise to AMD's present line of microprocessors. Second was as a co-founder of Sunrise Test Systems, which now is the basis for many test tools from Synopsys. In addition, Patel has provided technical consulting to a wide range of industries on architecture, reliability and testing.
He received a Bachelor of Science degree in Physics from Gujarat University, India and Bachelor of Technology in Electrical Engineering from the Indian Institute of Technology, Madras, India, and a Master of Science and Ph.D. in Electrical Engineering from Stanford University. He is a Fellow of ACM and IEEE, a recipient of the 1998 IEEE Piore Award and IEEE Test Technology Council Lifetime Achievement Award.
Academic Positions
Professor Emeritus ECE, U of I - January 2010 - Present
Research Interests
VLSI Testing and Testability, VLSI Design Automation
Research Areas
Computer aided design
Computer aided design of integrated circuits
Computer architecture
Digital integrated circuits
Hardware systems
Hardware verification and testing
Logic design and VLSI
Honors
IEEE Test Technology Council Lifetime Achievement Award, 2016
Fellow, ACM, 2001
IEEE Emanuel R. Piore Award, 1998
Best Paper Award, 1998 IEEE VLSI Test Symposium
Associate, Center for Advanced Study, 1992-93
Fellow, IEEE, 1989
Research Honors
Distinguished Lecture, Texas A&M Univ., College Station, TX, 2009
Distinguished Lecture, Georgia Tech, Atlanta, GA, 2009
Distinguished Lecture, North Western University, Evanston, IL, 2009
Keynote Speaker, IEEE International Test Conference, Austin, TX, 2006
Distinguished Lecture, Electrical and Computer Engineering, Purdue University, 2001
Nomination for Best Paper Award, ACM/IEEE Design Automation Conf. 1994
MCM Packaging Distinguished Lecture, Georgia Tech, Atlanta, GA, 1994
Inaugurated the Distinguished Lecture Series on Electronic Design Automation at IBM, Endicott, NY, 1993
Analog Devices Distinguished Lecture, Univ. of Michigan, Ann Arbor, 1992
Nomination for Best Paper Award, ACM/IEEE Design Automation Conf. 1987 (simulation and Test Category)
Keynote Speaker 1985 AT&T Technologies Conference on Electronic Testing, April 1985
Courses Taught
ECE 462 - Logic Synthesis