Nicol: Franklin W. Woeltge Professor of Electrical and Computer Engineering
Professorship: Franklin W. Woeltge Professor of Electrical and Computer Engineering
The Franklin W. Woeltge Professorships were established in the Department of Electrical and Computer Engineering thanks to a $4 million gift from Franklin Woeltge (BSEE '26), who died in 1998 at the age of 95. Born in St. Louis in 1903, Mr. Woeltge lived there his entire life except for his years at the University of Illinois, where he participated in the Electrical Engineering Society and American Institute of Electrical Engineering.
As an engineer, Mr. Woeltge worked in the Avionics and Space Division at Emerson Electric Co., retiring in 1963. He accumulated much of his wealth by investing in the stock market—a favorite passion of his, along with reading and ballroom dancing. Mr. Woeltge had no surviving relatives, so he made his bequest to the Department of Electrical and Computer Engineering because, he once said, that is where he spent some of the best days of his life.
Faculty: David M. Nicol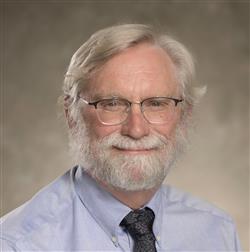 David M. Nicol received a BA in mathematics (magna cum laude, Phi Beta Kappa) from Carleton College in 1979. Following three years in industry with the Control Data Corporation, he attended the University of Virginia, where he received an MS in 1983 and a PhD in 1985, both in computer science.
He was a staff scientist for the Institute for Computer Applications in Science in Engineering from 1985 to 1987, and then served on the computer science faculties at the College of William and Mary (1987-1996) and Dartmouth College (1996-2003). In 2003 David joined the ECE faculty.
He has held many professional service roles (including editor-in-chief of the ACM Transactions on Modeling and Computer Simulation), has authored over 200 publications in leading conferences and journals, is co-author of a widely used undergraduate text Discrete Event System Simulation (5th edition), and has been principal investigator (PI) or co-PI on over $67 million of research grants and contracts. He is considered a leading expert on the modeling and simulation of discrete event systems, and is frequently called upon to consult with industry and government, particularly in the use of these techniques to assess the trustworthiness of systems that monitor and control critical infrastructure (e.g., power, transportation, telecommunication).
Since 2011, David has served as director of the Information Trust Institute at the University of Illinois, which brings together University and industry researchers to study trustworthy and secure information systems. Among the several centers within ITI, David is the PI of the Boeing Center for Trusted Software, and the National Security Agency Lablet for the Science of Security.
David and his students develop methodologies for assessing the trustworthiness (e.g., security, reliability, resiliency) of large-scale systems. They also develop model-based security solutions for networks, such as the validation of firewall configurations in enterprise systems, flow analysis identifying the potential for information leakage in highly secured systems, lightweight authentication and integrity mechanisms in distributed ad-hoc networks, protection against malware propagation within advanced metering infrastructures, and provable isolation of information streams at different security levels within a graphics system. Most of his graduated students have become academics themselves or joined government research labs.
He was elected Fellow of the IEEE and of the ACM. In 2007, David received the inaugural ACM SIGSIM Distinguished Contributions Award. He has been an ACM distinguished lecturer from 2007 to the present.