Liang: Franklin W. Woeltge Professor of Electrical and Computer Engineering
Professorship: Franklin W. Woeltge Professor of Electrical and Computer Engineering
The Franklin W. Woeltge Professorships were established in the Department of Electrical and Computer Engineering thanks to a $4 million gift from Franklin Woeltge (BSEE '26), who died in 1998 at the age of 95. Born in St. Louis in 1903, Mr. Woeltge lived there his entire life except for his years at the University of Illinois, where he participated in the Electrical Engineering Society and American Institute of Electrical Engineering.
As an engineer, Mr. Woeltge worked in the Avionics and Space Division at Emerson Electric Co., retiring in 1963. He accumulated much of his wealth by investing in the stock market—a favorite passion of his, along with reading and ballroom dancing. Mr. Woeltge had no surviving relatives, so he made his bequest to the Department of Electrical and Computer Engineering because, he once said, that is where he spent some of the best days of his life.
Faculty: Zhi-Pei Liang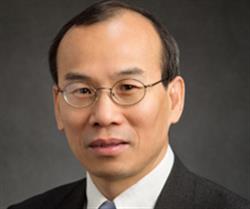 Zhi-Pei Liang received a BS in electrical engineering from South-China University of Technology in 1983 and a PhD in biomedical engineering from Case Western Reserve University in 1989. He subsequently joined the University of Illinois as a postdoctoral fellow in the National Center for Supercomputing Applications (1989-1991) and then as a research assistant professor in the Biomedical Magnetic Resonance Laboratory (1991-1993). In 1993 he joined the faculty of Illinois ECE. He has joint appointments in the Beckman Institute, the Coordinated Science Laboratory, and the Department of Bioengineering.
Zhi-Pei's research has been focused on developing theory and algorithms for magnetic resonance imaging (MRI), tackling some of the fundamental barriers to high-resolution and high-speed imaging. His group has made key contributions in data acquisition, image reconstruction, and image processing, which have enabled several important applications, including 3D real-time cardiac imaging and high-resolution metabolic imaging.
Zhi-Pei has received numerous awards in recognition of his research, teaching, and leadership contributions. In research, for example, he is a recipient of the Sylvia Sorkin Greenfield Award (Medical Physics, 1990), an NSF CAREER Award (1995), the Early Career Achievement Award from the IEEE Engineering in Medicine and Biology Society (EMBS; 1999), and the Otto Schmitt Award from the International Federation for Medical and Biological Engineering (2012). Recent research work from his group has been recognized by several paper awards, including the 2009 Isidor I. Rabi award from the International Society of Magnetic Resonance in Medicine (ISMRM), IEEE-ISBI Best Paper Award (2010), and IEEE-EMBC Best Paper Award (2010, 2011). In teaching, Dr. Liang was selected as a Distinguished Lecturer of IEEE-EMBS (2002-2005), appeared on "List of Teachers Ranked as Excellent" multiple times, received the Ronald W. Pratt Outstanding Teaching Award from Illinois ECE (2005), and the Engineering Council Award for Excellence in Advising (2006-2008). He has also played key leadership roles in technical societies, which include serving as conference/program chair of several major international conferences, and as president of IEEE-EMBS (2011-2012).
He was named a Beckman Fellow of the UIUC Center for Advanced Study (1997), Henry Magnuski Scholar (1999-2001), and University Scholar (2001-2004). He is a Fellow of AIMBE (2005), IEEE (2006) and ISMRM (2010), and was elected to the International Academy of Medical and Biological Engineering in 2012.