5/8/2020 Joseph Park, Illinois ECE
Illinois ECE Professors Deming Chen and Wen-mei Hwu will lead the establishment of a Xilinx Adaptive Computer Cluster (XACC) at the University of Illinois, one of four in the world.
Illinois ECE Professors Deming Chen, Abel Bliss Professor of Engineering, and Wen-mei Hwu, AMD Jerry Sanders Chair of Electrical and Computer Engineering, will be leading the effort to establish a research cluster with teams from Xilinx at the University of Illinois.
Xilinx is a company that develops highly flexible and adaptive processing platforms to enable rapid innovation across a variety of technologies. They are working to establish Xilinx Adaptive Compute Clusters (XACC) at four of the world's most prestigious universities including the University of Illinois.
These clusters "provide critical infrastructure and funding to support novel research in adaptive compute acceleration for high-performance computing (HPC)" according to a press release from ETH Zurich.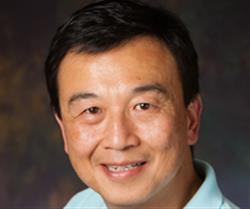 "The XACCs will provide dedicated hubs for innovation and research collaboration that will drive the development and integration of new adaptive compute technology into next generation systems," said Ivo Bolsens, CTO and senior vice president of Xilinx.
The broad scope of their research ranges from topics including architecture, tools, and applications.
Each cluster will be equipped with the latest Xilinx hardware and software technologies. Furthermore, each cluster will be set up to enable state-of-the-art high-performance computing research. Asides from the cluster at the University of Illinois, the University of California, Los Angeles (UCLA), the National University of Singapore, and ETH Zurich will all host a cluster.
For more information, read ETH Zurich's press release here.