Chowdhary's work with autonomous robots highlighted in The New York Times
Illinois ECE Assistant Professor Girish Chowdhary is working with autonomous robots to help revolutionize plant breeding. Chowdhary's robot TerraSentia can navigate a field by scanning its environment with thousands of laser pulses.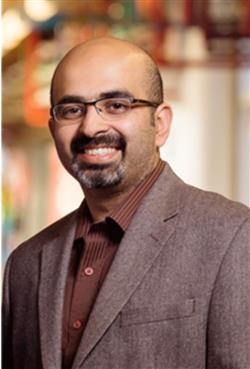 According to an article from The New York Times, TerraSentia is "designed to generate the most detailed portrait possible of a field" including the size, health, number, and quality of plants. Additionally, TerraSentia can measure stem diameter, leaf-area index, and the number of live grain or fruit-producing plants. Chowdhary is working on adding more traits or phenotypes to the robot, with the help of his startup EarthSense.
"The idea is that robots can automate the phenotyping process and make these measurements more reliable," said Chowdhary to The New York Times. Traditionally, plant breeders have to measure phenotypes by hand and select the plants with the best traits for growing hybrids.
Using TerraSentia's advanced machine-learning skills, scientists can identify the influence of hundreds and thousands of factors on a plant's future traits. With agricultural demand rising globally with less land and fewer resources, farmers will need to take advantage of technological advancements to feed the world.
"Our goal is to eventually get the cost of the robots under $1,000," he said. "Hopefully, by next year we'll be able to train the TerraSentia so even more users won't have to be anywhere in the field."
Headquartered in Urbana, IL, EarthSense is aware of issues that TerraSentia still runs into. For example, the robot can occasionally get tripped up by branches and debris or get stuck in muddy soil. Consequently, the user needs to walk behind the rover and adjust its course. However, TerraSentia has vastly improved since its earlier prototypes in which they lacked proper suspension systems and also partially melted from the heat of the robot's motors.
"A lot of people who tried the early prototypes still came back to us, even after having robots that essentially broke on them all the time," Chowdhary said. "That's how badly they needed these things." Chowdhary is also affiliated with the Beckman Institute and CSL.
Read more from The New York Times here.