ECE faculty commend new IBM CEO Arvind Krishna
Recently, Illinois ECE alumnus Arvind Krishna (MSEE '87, PhD '91) was announced as the new CEO of IBM. Krishna previously served as the vice president for database services and has been with the company since 1990.
"He has been rising quickly within IBM and over half the company was under him before the promotion," said Illinois ECE Department Head and Professor Bruce Hajek, Leonard C. and Mary Lou Hoeft Endowed Chair in Engineering, in an article with The Daily Illini. "He has a very high moral standard is (is) very supportive of the people around him."
"I really hope that with his combination of his technology and business expertise, that he will be able to take IBM to the next level," said Illinois ECE Professor and Director of the Center for Cognitive Computing Systems Research (C3SR) Wen-mei Hwu, AMD Jerry Sanders Chair of Electrical and Computer Engineering.
The C3SR is a multi-year joint venture between IBM and the University of Illinois to solve the most pressing issues facing the new computing era of artificial intelligence and cognitive computing. The University of Illinois strived to have a strong relationship with IBM and in 2016, Krishna acted as a catalyst for the collaboration.
"In 2016, we set up the IBM Illinois Center for Cognitive Computing Systems Research, and Arvind was the driving force behind it... so right now every year, I will meet with Arvind to discuss the achievements of the center and the future plans," said Hwu.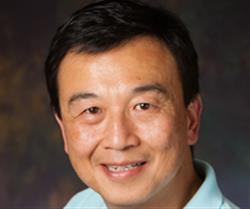 As the executive sponsor for the Center for Cognitive Computing Systems Research, Krishna makes sure to frequently check in with the progress of the center.
"He really cares about students," Hwu said. "Every time students invite him to do something, he would always accept, which is something I have always been impressed with."
Read more at The Daily Illini.