Haran named as new POETS director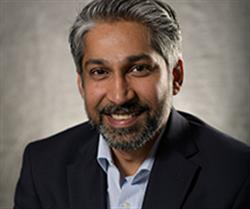 Illinois ECE Professor and Grainger Associate Kiruba Sivasubramaniam Haran has been named the new director of the Center for Power Optimization of Electro-Thermal Systems (POETS) in The Grainger College of Engineering.
The center originated at Illinois under the leadership of MechSE professor Andrew Alleyne, who secured an $18.5M grant from the National Science Foundation in 2015. Alleyne was recently named the new Dean of the College of Engineering and Sciences at the University of Minnesota.
"I am very excited to take on this role, though it's going to be hard to fill Andrew's shoes," Haran said. "His vision, leadership and especially, the outstanding team he put together, has well-positioned POETS to make a meaningful impact on transportation electrification."
POETS is a key enabler in providing an increase in power density through advanced technology and workforce development, considering both the electrical and thermal systems from initial design concept and optimization through actual deployment in fielded vehicle testbeds. The goal is to break down the silos between different disciplines to co-design and co-operate these power-dense electro-thermal systems.
"With our amazing students, we have the opportunity to create the future leaders of this fast-evolving industry," Haran said. "We look forward to pushing the envelope to make the world cleaner and more sustainable."
Haran also most recently had a joint appointment with the Carle-Illinois College of Medicine. He was recently appointed the Grainger Director's Chair for the Center for Electric Machinery and Electromechanics (CEME). He has considerable experience contributing to the teaching, research, and administrative functions both within the department and beyond.
"Professor Haran will provide leadership for the POETS Center at the college level," said ECE Professor and Dean Rashid Bashir, Abel Bliss Professor of Engineering. "He will advance the vision and mission of the center to raise the college leadership profile, nationally and internationally, in the areas of electrical and thermal systems. He has been a key faculty investigator in the POETS Center; thus, he has a vision and direct experience to lead it to the next level."
Read the original article on the MechSE site.