1/7/2022 Miranda Holloway, Grainger College of Engineering
Illinois ECE Professor Zhi-Pei Liang was recently elected fellow of the National Academy of Inventors for his "highly prolific spirit of innovation in creating or facilitating outstanding inventions that have made a tangible impact on the quality of life, economic development, and welfare of society."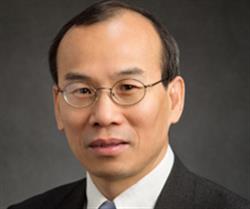 Illinois ECE Professor Zhi-Pei Liang, Franklin W. Woeltge Professor of Electrical and Computer Engineering, was elected fellow of the National Academy of Inventors.
Liang is being honored for his "highly prolific spirit of innovation in creating or facilitating outstanding inventions that have made a tangible impact on the quality of life, economic development, and welfare of society," according to the academy. Election to NAI Fellow status is the highest professional distinction accorded solely to academic inventors.
"I feel greatly honored and humbled by this special recognition, which would not have been possible without the opportunities of working together with my wonderful Illinois colleagues and students to produce the impactful work," Liang said. "So, this recognition belongs to them as well."
Liang's research is in the general area of magnetic resonance imaging and spectroscopy, ranging from spin physics, signal processing, machine learning, to biomedical applications. His research group has been developing advanced methods for optimal acquisition, reconstruction, and processing of high-dimensional MR images with application to functional neuroimaging, real-time cardiac imaging, and cancer imaging.
His research has led to a new class of learning-based imaging methods that have significantly increased the resolution and speed capabilities of MRI. The resulting technology is important to a range of applications such as real-time cardiac imaging and label-free molecular imaging of brain function and neurodegenerative diseases.
Liang is also the co-chair of the Integrative Imaging Theme in the Beckman Institute for Advanced Science and Technology. He has additional appointments with the Carle Illinois College of Medicine, the Beckman Institute, the Coordinated Science Lab, the Information Trust Institute, Bioengineering.
Prior to coming to Illinois, Liang received a BS from the South-China University of Technology and a PhD from Case Western Reserve University.
Liang has been on the University of Illinois faculty since 1991. He was recruited to Illinois by late Nobel Laureate Paul C. Lauterbur. Lauterbur is credited as the inventor of the MRI and was Liang's longtime mentor.
In his over two decades at Illinois, Liang has received numerous awards and recognitions for his world-changing contributions to medical imaging. He was elected as member and chair-elect of the International Academy of Medical and Biological Engineering, and is a fellow in IEEE, ISMRM, and AIMBE.
He will be inducted to the NAI as a fellow at the 11th Annual Meeting of the NAI in Phoenix, Arizona in June of 2022.
Read the original article on the Grainger site.