Boppart named an NAI Fellow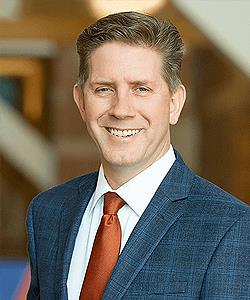 Illinois ECE Professor Stephen Allen Boppart, Abel Bliss Professor of Engineering at the University of Illinois at Urbana-Champaign, and the Director of the GSK Center for Optical Molecular Imaging at the Beckman Institute for Advanced Science and Technology, has been named a Fellow of the National Academy of Inventors (NAI), the organization announced on Tuesday. Boppart will be formally inducted at the Ninth Annual Meeting of the National Academy of Inventors in Phoenix, Arizona, on April 10, 2020.
A complete list of NAI Inductees
Boppart also has an appointment in the Department of Bioengineering within The Grainger College of Engineering. He serves as Executive Associate Dean and Chief Diversity Officer for the Carle Illinois College of Medicine. He has affiliation with a number of centers and laboratories on campus, including the Micro and Nanotechnology Laboratory and the National Center for Supercomputing Applications (NCSA). He has co-founded three companies, the two more recent, Diagnostics Photonics and PhotoniCare, include novel optical imaging technologies for surgical and primary care applications, respectively.
At Beckman, he works with a team of 25 researchers investigating novel optical diagnostic imaging technologies for basic science and translational clinical applications. The campus-wide Imaging at Illinois initiative, which he serves as director, leverages the strengths and diversity of over 100 faculty working in all aspects of imaging science, technology, and applications.
Boppart received his Bachelor's and Master's degrees from Illinois in Electrical Engineering, his PhD in Medical and Electrical Engineering from MIT, and his MD from Harvard Medical School. He completed his residency training in Internal Medicine through the University of Illinois College of Medicine. He has published over 350 invited and contributed publications and has over 45 patents related to optical biomedical imaging technology.
From 2006-2008, he served as Founding Director of the Mills Breast Cancer Institute and holds a research position with Carle Foundation Hospital. His efforts included constructing a new building and developing new infrastructure to support translational research and technology development in biomedical research between the University of Illinois and Carle Foundation Hospital.
The NAI Fellows Program highlights academic inventors who have demonstrated a spirit of innovation in creating or facilitating outstanding inventions that have made a tangible impact on the quality of life, economic development and the welfare of society. Election to NAI Fellow is the highest professional distinction accorded solely to academic inventors. To date, NAI Fellows hold more than 41,500 issued U.S. patents, which have generated over 11,000 licensed technologies and companies, and created more than 36 million jobs. In addition, over $1.6 trillion in revenue has been generated based on NAI Fellow discoveries.
The 2019 Fellow class represents 136 research universities and governmental and non-profit research institutes worldwide and collectively holds over 3,500 issued U.S. patents. Among the 2019 Fellows are six recipients of the U.S. National Medal of Technology & Innovation or U.S. National Medal of Science and four Nobel Laureates, as well as other honors and distinctions. Their collective body of research covers a range of scientific disciplines including neurobehavioral sciences, horticulture, photonics, and nanomedicine.
Check out the original article on the Grainger College of Engineering site.