Hwu extends GPU principles in general parallel computing applications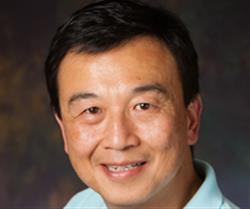 The computations of modern hardware are so complex that it requires multiple processors to parallelize the task that is being performed. According to an article from Built In, Nvidia approached ECE ILLINOIS Professor Wen-mei Hwu, AMD Jerry Sanders Chair of Electrical and Computer Engineering, to help extend their designs with GPUs into general parallel computing applications.
The circuits in computers used to render graphics for video games and 3D animations are built from the same root architecture as the circuits that make accurate climate pattern predictions. The parallel infrastructure of GPUs continues to fuel the most powerful computers.
"If you look at the workhorses for the scientific community today, the new computers, like [IBM supercomputer] Summit, and also the next generation, like Aurora, they're largely based on this model now," said Hwu to Built In.
Annually, the U.S. Department of Agriculture estimates the supply and demand for a multitude of crops. These forecasts are used in a wide range of variety including legislators seeking to stabilize markets to farmers trying to manage their finances.
Last year, Illinois researchers at the Department of Natural Resources and Environmental Sciences "topped the feds' industry-standard forecast by incorporating more data" including crop growth calculations, seasonal climate information, and satellite figures. Using Blue Waters, the university's parallel-data supercomputer, the researchers crunched these numbers with machine learning algorithms. The researcher's predictions were "more accurate by nearly five bushels per acre."
This year, the team worked on data with Australian wheat yields and came up with similarly impressive results.
Beyond the academic and government research fields, the commercial world has also noticed the advantages of parallel computing. "The banking industry, investment industry traders, cryptocurrency — those are the big communities that are using a lot of GPUs for making money," added Hwu."
Read more from Built In here.