2019 Sloan Research Fellow Al-Hassanieh interviews with The News-Gazette
ECE ILLINOIS Assistant Professor and 2019 Sloan Research Fellow Haitham Al-Hassanieh recently interviewed with Paul Wood, staff writer for The News-Gazette, to discuss topics including IoT, the Systems and Networking Research Group, MRI, and patents.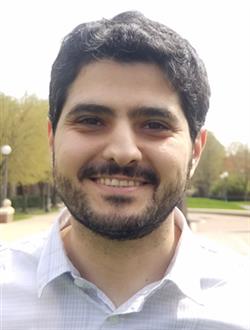 Al-Hassanieh was one of the 126 recipients of the 2019 Sloan Research Fellowships and researches designing systems and algorithms for wireless networking and mobile sensing, often associated with the Internet of Things (IoT). He describes IoT as the "idea of connecting every and all devices to the internet regardless of their size and functionality. From small temperature and humidity sensors to smart fridges and self-driving cars."
Al-Hassanieh also leads the Systems and Networking Group which researches collaboratively with industry partners to tackle problems directly relevant to cloud computing, big data, software-defined networks, IoT, and more. Within the Systems and Networking Group, Al-Hassanieh focuses on designing new systems and protocols for next-generation wireless networks. With more than 14 GHz of unlicensed spectrum which is more than 200 times of what they have been using for cellular and Wi-Fi, Al-Hassanieh proclaims that the "opportunities are endless."
Regarding challenges associated with his research, Al-Hassanieh commented that because of how "the signal attenuates very quickly and the radios must use very directional antennas to extend the range, this makes it very hard to accommodate mobility and have seamless connectivity." Al-Hassanieh is also affiliated with the CSL.
Read more from Al-Hassanieh's interview here.