2/21/2018 Julia Sullivan, ECE ILLINOIS
Nominated by grad student Daniel Pertisko, Prof. Kumar has been named this year's winner of the Stanley H. Pierce Faculty Award.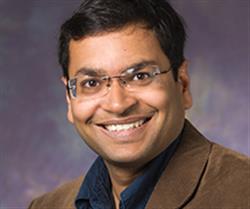 ECE ILLINOIS Associate Professor and Coordinated Science Lab researcher Rakesh Kumar has been honored with the Stanley H. Pierce Faculty Award. Presented by the College of Engineering, the award was established by William L. Everitt, former head of the (then) electrical engineering department and former dean of the college. Pierce was associate dean of the college and known for his deep, personal commitment to continually improving relationships between students and faculty.
ECE ILLINOIS graduate student Daniel W Petrisko (BSEE '16) nominated Kumar for the honor. The pair met when Petrisko was an undergraduate; Kumar is now his graduate adviser.
"My interactions with Prof. Kumar as an undergraduate are what drove me towards my current path of further graduate education and intensive research," Petrisko said in his nomination letter. "Upon meeting him, my immediate impressions were of his honesty and his compassion."
Petrisko went on to join Kumar's research group as an undergraduate where he learned "how to present research and more importantly how to actively listen to research presentations. These soft skills are underrepresented in most students that I have interacted with, let alone during undergraduate. Rather than getting frustrated with my inexperience, Prof. Kumar always motivated me to better."
Petrisko highlighted that Kumar's undergraduate students consistently publish in top conferences at an exceptional and uncommon rate, but thanks to excellent guidance and mentorship, never at the expense of health or happiness.
"Professor Kumar has an exceptional ability to manage people and projects to capture the group's interests while maintaining exceptional productivity," Petrisko said. "Rather than demanding too much of his students...we have been able to schedule and delegate to maintain both productivity as well as my mental and physical health."
The award will be presented in April at the 54th Annual Engineering Awards Convocation. Past ECE ILLINOIS recipients include Professors Jennifer Truman Bernhard and Wen-mei Hwu.