AFOSR Young Investigator Research Program awards grant to Ilie
ECE ILLINOIS Assistant Professor Raluca Ilie was selected by the Air Force's Young Investigator Research Program (YIP) to receive a grant that covers a three year period and totals to $450,000.
The Air Force Office of Scientific Research (AFOSR) announced that they would award about $19.9 million in grants to "45 scientists and engineers from 38 research institutes and small businesses who submitted winning research proposals through YIP."
Out of over 280 proposals, Ilie's proposal, "Determining the Contribution of Nitrogen to the Total Ionospheric Ion Outflow," was named as one of the 45 winning proposals.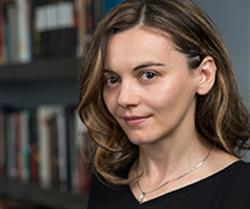 Through this program, the YIP strives to "foster creative basic research in science and engineering, enhance early career development of outstanding young investigators, and increase opportunities for the young investigators to recognize the Air Force mission and the related challenges in science and engineering."
Visit the Wright-Patterson Air Force Base site to view the list of grant recipients and their anticipated research areas.