Report prescribes preparedness, collaboration for electricity resiliency after natural disaster
If an earthquake, cyber-attack, or even a major operator error occurred, how long would it take our nation's electrical grid to bounce back? Would there be extended blackouts? How would communications, hospitals, and transportation be impacted?
These are the pressing scenarios driving the new
congressionally mandated report by the National Academies of Sciences, Engineering, and Medicine
released today.
William H Sanders
, ECE ILLINOIS department head and co-PI of the
Cyber Resilient Energy Delivery Consortium (CREDC)
, is one of the authors of "Enhancing the Resilience of the Nation's Electricity System." He will present highlights of the report with two others
in a webinar broadcast from Washington DC
. (
Download the slides here
.)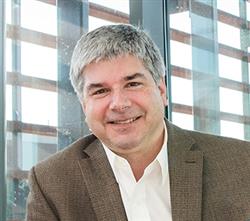 "Cyber and physical grid resiliency is a crucial research area," Sanders said. "The grid's cyber and physical infrastructure is inextricably linked, and must be considered as one when working to provide grid resiliency. Understanding this interdependence is critical to developing practical strategies to ensure the resiliency and cybersecurity of our nation's power grid."
"Outages of this scale leave millions of customers without power, resulting in economic damages estimated in the billions of dollars, posing serious threats to health and public safety, and also potentially compromising national security," said M. Granger Morgan, professor of engineering at Carnegie Mellon University and chair of the committee. "Outages caused by natural disasters are more common than one might think. While the U.S. has not been subject to a large physical assault or cyberattack, both pose serious and growing risks."
The report's recommendations focus on three stages: preparedness, actions during an event, and recovery, all tied together by continuous improvement from post-incident learning.
As the
report highlights
, "resilience begins with preparative and preventative actions to make outages less likely." By improving the reliability of individual grid components, reducing critical dependence on individual components through redesign, and empowering operators with advanced data and sensors, large-scale outages could happen less frequently and on a reduced scale.
With no entity solely responsible for planning, operating, or regulating the grid, the report calls for coordinated actions and an increased integrated perspective among the U.S. Department of Energy (DOE), U.S. Department of Homeland Security (DHS), state groups, and private utility stakeholders.
The report presents specific actions and tactics for these groups. For example, they advise that the DOE should focus on research to improve the resilience of grid operations and recovery and work closely with the owners and operators of electrical infrastructure to continuously improve technology.
The authors envision a seamless sharing of resources, including personnel, in the event of a disaster. They stress the importance of developing standards and post-incident investigation practices so learnings can be shared broadly.
But the actions proposed by the report aren't limited to large entities. Steps are prescribed for electricity customers. Improving the reliability of backup power equipment purchased by customers has obvious direct benefits in the event of an outage but also has the potential to support state agencies by providing partial service to other customers. The committee calls for further legal, financial, and technical investigation of this tactic.
The full report is available online
. Today's publication doesn't mark an end of the research, but rather a beginning.
"Groups like
CREDC
are even more critical today," Sanders said. "Now that our national committee has published findings and prescriptive actions, it's up to such research collaborations to guide the next steps." Sanders is also a Donald Biggar Willett Professor of Engineering, research affiliate at the
Coordinated Science Lab
, and member and founding director of the
Information Trust Institute
.