Four Illinois professors win 2016 Google Faculty Awards
Four Illinois faculty members have been honored with 2016 Google Faculty Awards, including three ECE ILLINOIS faculty members: Assistant Professor Ivan Dokmanic and affiliates Ranjitha Kumar and Sewoong Oh.
According to the Google Research Blog, Google received 876 proposals covering 44 countries and over 300 universities this year. Ultimately 143 projects were funded. "The subject areas that received the most support were machine learning, machine perception, networking and systems," according to the blog. Dokmanic's proposal, "Echonomy in Auditory Scene Analysis," falls into the machine learning category.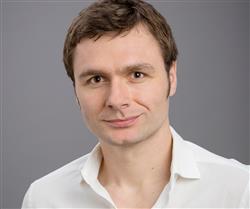 As explained in an article from the Coordinated Science Lab (CSL), echoes are more or less copies of real sources—you can think about them as virtual sources that provide spatial diversity. In teleconferencing, for example, you may want to listen to someone talking 2 meters away, but there is a third person in between speaking on the phone and obscuring the desired speech signal. Dokmanic's team is working on new signal processing methods for microphone arrays that listen to the echo of the person you want to hear, since this echo is not occluded by the interfering talker.
The work can also be applied to echo-aided source separation. Say you record two people talking in the room with several microphones and you want to separate the recording into what each individual talker was saying.
"You can think about this situation as having not only two sources but actually having many 'virtual' sources, or echoes," Dokmanic said. "So instead of looking at the problem as that of separating two sound streams, we actually aim to separate one group of sound streams, which are all identical since they correspond to echoes of a single stream, from another group of sound streams, which are also identical, but they all come from different points in space."
Dokmanic recently joined the ECE faculty and is a researcher at the Coordinated Science Lab.
Two ECE affiliates also won awards this year. "Optimal Mechanism Design for Private Data Sharing" was submitted by Sewoong Oh, an assistant professor of industrial and enterprise systems engineering and CSL researcher. He will focus on protecting private data by introducing "smart noise" during the transmission of sensitive material. Rajintha Kumar, assistant professor of computer science, proposed "Design Mining Android Apps at Scale" in the category of human-computer interaction.
The final winner from Illinois is Philip B. Godfrey, associate professor of computer science, who will collaborate with Michael Schapira, Hebrew University, in the networking category.