Haran named Associate Director of the Grainger CEME
Associate Professor Kiruba Sivasubramaniam Haran was recently named Associate Director of the Grainger Center for Electric Machinery and Electromechanics (CEME).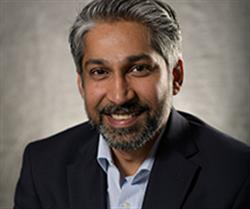 Haran said he was honored to be named to this position, which recognizes his contributions to the power area at Illinois. As the Associate Director, he will receive fifteen percent annually from the Grainger Endowment income to support his research and professional activities.
"What this Grainger Associate position will allow me to do is think of any interesting idea and go explore that without having to go through the formalities of the grant process," Haran said. "It will allow me to experiment with ideas and collaborate with others on new and innovative concepts."
The Grainger CEME was established in 1999 and has since been dedicated to enhancing, understanding and researching fundamental topics of electric machinery. The center is being led by Research Professor Philip T Krein. Other ECE faculty members that perform research for the center include Kevin Colravy, Alejandro Dominguez-Garcia, Paul J A Kenis, Thomas J Overbye, Robert Pilawa-Podgurski, and Peter Sauer.
One of the center's current major initiatives is the research into electrifying transportation. Haran said that the development of commercial electric transportation can help lower carbon emissions and make travel more efficient.
"If we can make travel electric, it would significantly reduce the damage done to the environment," Haran said. "The Grainger Center is one of the leading centers that has helped in the development of technologies and solutions in electrifying road transport."
Haran added that along with the Center, the culture of ECE ILLINOIS is what makes working at Illinois a rewarding experience. He praised the quality of students and faculty present in the department that foster the collaborative environment found throughout.
"I chose to come here because of the all the great faculty we have and excellent students," said Haran, who has been at Illinois since 2014. "Even in the power area, which is a small group, we all work very collaboratively. A number of people in this group can do a lot of interesting research that I couldn't have done on my own because there is such a wide breadth of expertise."