Bernhard elected to IEEE Board of Directors
Professor Jennifer Truman Bernhard has been elected to the IEEE's Board of Directors as the director-elect of its Division IV, a group of seven engineering disciplines including magnetics, antennas and propagation, microwave theory and techniques, and broadcast technology.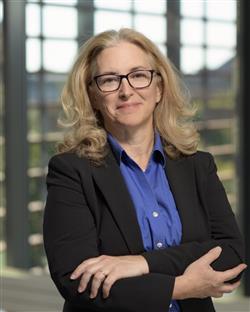 The board is the governing body of the IEEE: it makes decisions on a range of issues, such as which publications IEEE produces, the rates of its dues, and deciding how to direct the organization in a way that best serves its membership and the profession.
Elected directors serve their first year as a director-elect, then assume their full duties the year afterward for a two-year term. Bernhard was elected to the position by the voting members of the division.
As a director, Bernhard will encourage more interaction between the various technical societies in IEEE's Division IV, and to advocate for these societies in the organization's board of directors. She also plans to use her oversight as a director to ensure the overall organization operates responsively and transparently, and that it provides value to IEEE members and to the engineering profession.
"I wanted to join the IEEE Board of Directors to help the organization that serves as one of the main stewards of our profession become more integral to the career development of current electrical engineers and computer engineers, while also helping it find its way to lead in the growth of our field in new directions," Bernhard said. "As Division IV Director, I will represent key technical societies that support the development of a range of new technologies and techniques with applications everything from sensing to communications to energy."
As a professor, Bernhard focuses her research on antennas. She concentrates on developing new ways of designing antennas that can improve the performance of communication, sensing, and radar systems. She mainly teaches courses in electromagnetics, such as ECE 454, Antennas, ECE 457, Microwave Devices and Circuits, or ECE 577, Advanced Antenna Theory. She has authored more than 250 publications and has advised 59 graduate students. Before sitting for election as a director, she served as the president of the IEEE's Antennas and Propagation Society in 2008.
"I'm honored to have been elected to the Board as Division IV Director," Bernhard said. "I hope to bring my leadership experience as well as my interdisciplinary viewpoint to bear on the important issues facing the IEEE Board in the coming years, especially with regard to strategic planning for the future, enhancing the transparency of IEEE governance, and enhancing responsiveness to the IEEE membership."