Kairouz presented with Sigmetrics Best Paper Award for research on anonymous social networks
In a time when social media has the power to enact societal change around the world, graduate student Peter Kairouz believes it is more important than ever to protect those who want to voice their beliefs.
Kairouz was recently presented with the Best Paper Award at the 2015 Sigmetrics Conference in Portland, Ore., for his work on anonymous broadcast communication. The conference is considered to be the Association for Computing Machinery's (ACM) premier event on modeling, measurement, and evaluation of computer systems and distributed networks.
"I am really happy that this project has received a lot of attention in our research community and the media," Kairouz said. "It really feels great when your work gets recognized by your fellow colleagues."
In collaboration with UC Berkley PhD student Giulia Fanti, Kairouz wrote a research paper that explored the social networks like Yik Yak and Whisperer. Although these apps appear to give users a medium to share their thoughts anonymously, in reality the user identities are all known because messages are sent through centralized servers.
In an effort to create true anonymous social media app, Kairouz focused his research on peer-to-peer networks, which operate without the need of a centralized server and allow users to directly voice their ideas to the public. In addition, he and his team also designed message spreading protocols that are able to distribute communications quickly and efficiently.
"Anonymous communication is crucial in nations with authoritarian governments, where the right to free expression and the personal safety of message authors hinge on anonymity," Kairouz said. "Anonymity is also important in other contexts where teenagers feel like expressing their opinions or concerns but are afraid of being judged by their friends."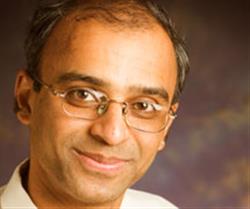 Kairouz is aware of the issues associated with the anonymous communication, which includes harassment and cyber-bullying. He has been researching with Library Information and Science Professor Masooda Bashir on designing machine learning and natural language processing techniques to detect, prevent, and mitigate inappropriate behavior.
He also credits his advisers, Professors Pramod Viswanath and Seewong Oh, a faculty member in the Department of Industrial and Enterprise Systems Engineering, with providing a creative environment at Illinois to develop unique but challenging ideas, which helped shape the eventual paper.
Despite winning the Sigmetrics award, Kairouz said his research is far from over and he hopes to eventually build a true anonymous messaging app. The venture is still in the early phases, but he is pleased with the results so far and is exploring the prospects of turning it into a startup one day.
"A project like this one involves diverse areas of electrical engineering and computer science: privacy, security, algorithms, statistics, software engineering, and distributed systems," Kairouz said. "We are definitely up for the challenge and excited about this new project."