Alumnus LaValle featured in MSI's robot revolution exhibit
The Museum of Science and Industry, Chicago (MSI) this spring premiered a new national touring exhibit, Robot Revolution, that explores how robots, created by human ingenuity, will ultimately be our companions and colleagues, changing how we play, live and work together.
The exhibit comes to life with a collection of cutting-edge robots that have been secured from some of the most innovative global robotics companies and universities. On video screens throughout the exhibit hall, technology pioneers explain why robotics is an exciting field, as well as the key challenges faced by researchers and developers in specialty areas such as manipulation, planning, and locomotion.
"I have worked in robotics for decades," said CS Professor Steven LaValle (BS CompE '90, MS '93, PhD '95), one of the robotics scientists interviewed for and featured in the exhibit videos. "I am specifically interested in motion planning, sensing, and filtering, which has also informed my current work in virtual reality. By combining these technologies, there are seemingly endless possibilities in art, entertainment, health care, communication, and education.
"I am honored to be a part of this amazing project and to help explain aspects of robotics to both kids and adults," LaValle said. "The exhibit will remain in Chicago through Jan. 3, 2016, and will then tour the nation through 2020."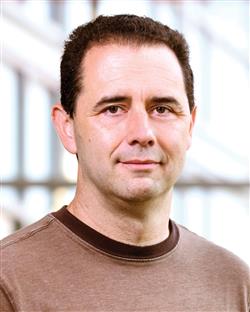 Robot Revolution allows guests to step into a visionary world where robots are not just a curiosity, but a vital asset. From Yume Robo, the climbing robot that greets you at the exhibit entry while traversing up and down a ladder, to the Recon Scout® Throwbot® XT that can literally be thrown into a dangerous situation to collect vital information—guests will be awed by the breakthroughs and capabilities of these machines.
"Robotics is a truly fascinating field—and it's one that is growing exponentially," said David Mosena, president and CEO of the Museum of Science and Industry, Chicago. "This exhibit, in a fun and engaging way, helps answer questions like: How do robots work? How will they potentially change our lives? How can I get involved in robotics? We are thrilled to bring this cutting-edge content to MSI and to tour it to other science museums around the nation."
Robot Revolution is supported by Google.org, with additional support from The Boeing Company, RACO Industrial, The David Bohnett Foundation, The Kaplan Foundation, and United Airlines. For more information and tickets to the exhibit, visit msichicago.org.