Board of Trustees approves new College of Medicine
The University of Illinois Board of Trustees voted unanimously Thursday, March 12, to establish the College of Medicine at Illinois. It will be the nation's first college of medicine focused, from the beginning, on the intersection of engineering and medicine.
The college will be a partnership between the University of Illinois at Urbana-Champaign and Carle Health System, and specifically designed to train a new kind of doctor. This ground-breaking approach will integrate the university's unparalleled assets in engineering, technology, and supercomputing with Carle's nationally recognized, comprehensive health care system.
ECE Professor Stephen Allen Boppart has been involved in its creation. Boppart is a physician-engineer and innovator, and the type of individual this new medical school plans to train. He was also the Founding Director of the Mills Breast Cancer Institute at Carle, and continues translational research studies there.
"The Board of Trustees' approval and the establishment of a new engineering-based College of Medicine on our Urbana campus represents a historic moment and an incredible opportunity for our department, college, and university to address the major challenges we face in medicine and our health care system," Boppart said.
Carle is the primary investor in the new initiative, and has pledged $100 million in the first 10 years, including $34.5 million for startup costs.
"Twentieth-century innovation was dominated by electronics, computing, and communication. Illinois was at the forefront," said Andreas C Cangellaris, dean of Illinois' College of Engineering. "The 21st century will be dominated by technology that merges engineering tools and techniques with health care."
Boppart is especially excited about what it will mean for those it will educate.
"Our new engineering-based College of Medicine will educate a new generation of physician-engineers and physician-entrepreneurs that will use their many talents to understand and cure disease with compassionate care while developing innovative medical technology that will lower health care costs and broaden its reach to impact global health," Boppart said. "This is a dynamic and exciting time for our campus, Carle, and our community as we begin this transformation."
Department Head William H Sanders said ECE ILLINOIS has a strong and long tradition in working at the intersection between electrical and computer engineering and medicine.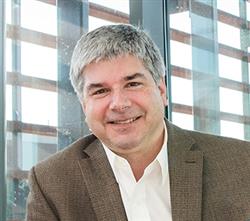 For example, Professor Brian T Cunningham has developed low-cost photonic crystal-based biosensing devices that have allowed for the detection of cancer cells, including early-stage breast cancer; as well as the amount of HIV virus present in the human body.
Associate Professor Gang Logan Liu has developed a smartphone-based sensor that provides accurate nitrate concentration measurements and has other health applications.
ECE ILLINOIS has several faculty members, including William D O'Brien, Jr., Michael L Oelze, Gabriel Popescu, and Zhi-Pei Liang, who have made strong contributions to the world of biomedical imaging, including developing cancer-detecting ultrasound, the first 3-D imaging of live cells, and new generations of MRI technology, respectively.
Associate Professor Xiuling Li has developed stents only a few microns big that can speed up and direct neuron growth. These tiny structures might someday be a big help to those with Alzheimer's or traumatic brain injury.
And Professors Ravishankar K Iyer, Wen-mei Hwu, and Steven Sam Lumetta work on the CompGen Initiative, which will enable faster, more accurate DNA sequencing.
"We're incredibly happy that ECE faculty will now have the opportunity to train doctors and transform health care through our new engineering-based College of Medicine," Sanders said. "This is just another way ECE ILLINOIS and its people will have an opportunity to change the world."