Carle Illinois welcomes Haran and Oelze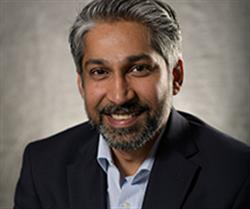 Eight faculty from The Grainger College of Engineering have joined Carle Illinois College of Medicine with Health Innovation Professor appointments including Illinois ECE professors Kiruba Sivasubramaniam Haran and Michael L Oelze. The new faculty deliver on Carle Illinois' strategy to leverage the University of Illinois' exceptional faculty to serve as agents of change in medical education, innovation, and research at the world's first engineering-based college of medicine.
"As champions of interdisciplinary health research, the new professors will advance the discovery and translation of breakthrough health innovations that have the potential to improve patient care and outcomes," said King Li, Dean of the Carle Illinois College of Medicine. "They will help to pioneer new approaches to medical education and integrate health innovation concepts into graduate and undergraduate courses across the UIUC campus."
The new Health Innovation faculty represent a range of engineering disciplines and are positioned to be drivers of innovation in medicine and healthcare, which will fuel health-related funding from government agencies, industry, foundations, and individuals, and inspire a range of new cause-based philanthropic giving campaigns.
"Carle Illinois Health Innovation Professors recognize the value of translating new ideas to innovations and to impact, and several are founders of new biotech, medical device, and digital health companies. They will help Carle Illinois to fill the Research Park and the envisioned Health Innovation Translator facility, fulfill the vision of the Discovery Partners Institute, and promote economic prosperity throughout Illinois," said Illinois ECE Professor Stephen Allen Boppart, Abel Bliss Professor of Engineering and Carle Illinois' Executive Associate Dean and Chief Diversity Officer.
Kiruba Haran, Professor, Electrical and Computer Engineering
A professor of electrical and computer engineering, Haran's research focuses on electric transportations, electrical machines and drive systems, and power and energy systems. His research group is focused on electro-mechanical energy conversion technologies, with new interests in how these can be applied to medical devices and medical technologies.
Michael Oelze, Professor, Electrical and Computer Engineering
A professor of electrical and computer engineering, Oelze's research focuses on several aspects of ultrasound/tissue interaction including: cancer detection using quantitative ultrasound, ultrasound microscopy, bioeffects of ultrasound, ultrasound-based therapies and coded excitation.
"These incredibly talented Health Innovation Professors are thought leaders and visionaries, and are a shining example of the University's and Carle Illinois' commitment to leverage the tremendous power of diversity and interdisciplinarity to promote innovation and excellence," said Boppart.
Carle Illinois' next round of applications for Health Innovation Professor appointments will open soon. The next application cycle includes faculty from the College of Applied Health Sciences, College of Agricultural, Consumer & Environmental Sciences, College of Veterinary Medicine, and Gies College of Business, and future rounds will include other colleges across campus. More information is available by contacting Stephen Boppart (boppart@illinois.edu). Oelze is affiliated with the Beckman Institute, CSL, and HMNTL.
Read the original article on the Carle Illinois College of Medicine site.