Makela receives IEEE Mac Van Valkenburg Early Career Teaching Award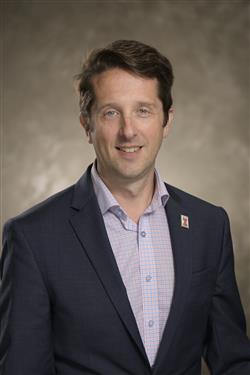 ECE Associate Professor Jonathan Makela is the 2011 recipient of the IEEE Education Society's Mac Van Valkenburg Award. The award goes to teachers within their first 10 years following the receipt of their PhD who have "made outstanding contributions to teaching unusually early in their professional careers," according to the IEEE website.
Makela, a researcher in the Coordinated Science Lab, is in his seventh year of teaching at ECE ILLINOIS, and he earned his PhD in 2003. "It's always nice to be recognized for the hard work you put into teaching," he said.
While Makela has only been teaching professionally for seven years, he has enjoyed teaching for much longer. As a graduate student at Cornell University, Makela was involved in the Learning Initiatives for Future Engineers. He was the Head Cooperative Learning Trainer, in charge of training undergraduate facilitators of Academic Excellence Workshops for first and second year students in the core engineering classes.
"We would have separate sessions outside of the lecture and discussion sections that went along with the courses where students would interact with the facilitators," he said. He was also a facilitator with the program when he was an undergraduate. "That would take me back to '98," Makela said of his background in teaching.
During Makela's time at ECE, the undergraduate courses he has taught have included ECE 329: Fields and Waves I; ECE 450: Lines, Fields and Waves; ECE 437: Sensors and Instrumentation; and ECE 445: Senior Design Project Lab.
Beyond these regular courses, Makela has developed a new course: ECE 456: Global Nav Satellite Systems.
"[The class] uses GPS primarily as a vehicle to teach students about radio wave propagation, signal processing and receiver design," Makela explained. "It pulls in aspects from other courses [students] have already taken and shows them how all of these different areas are combined to get this system that is so pervasive in our life."
Along with developing his own ECE course, Makela's favorite part about teaching is interacting with the students. "The students in our department by and large are fabulous. They are very motivated and they're challenging," he said. "What they're capable of is just phenomenal."
While this year's award goes to an Illinois professor, the name always honors another ECE ILLINOIS faculty member – Mac Van Valkenburg. Van Valkenburg joined the faculty in 1955 and became the head of Electrical Engineering in 1966. In 1984, he was named the Dean of the College of Engineering. He guided the department and college to "national prominence during a 'renaissance in engineering'" according to the IEEE website.
"It's very special that it's named after Mac Van Valkenburg, who was an eminent scholar and teacher in our department," Makela said. "To win an award recognizing him is especially meaningful."
Makela gave thanks to Professor Erhan Kudeki, who nominated him for the award, and Professor Andreas C Cangellaris, the head of ECE ILLINOIS. "It's nice to have the support of your colleagues," Makela said.
This is not the first teaching honor Makela has been awarded. In 2009, he received the Ronald W. Pratt Faculty Outstanding Teaching Award from ECE ILLINOIS.
"It's a pleasure to teach," Makela said. "It's great to be in this department where teaching is valued as much as it is."