The future of farming is autonomous
Illinois ECE Assistant Professor Girish Chowdhary, Donald Biggar Willet Faculty Fellow of agricultural and biological engineering (ABE) and computer science (CS), has spent years developing robotic technology to improve on traditional farming practices. He is now leading an effort to improve farming practices even more by making it autonomous through artificial intelligence.
In mid-August it was announced that the University of Illinois Urbana-Champaign was going to be the home to two new artificial intelligence institutes, one of which will focus on farming. Helping the new institute achieve its goals will be the Illinois Autonomous Farm (IAF) led by Chowdhary.
"IAF is a product of collaboration between the Ag and Bioengineering department and the Illinois Center for Digital Agriculture," said Chowdhary. "The idea is that AI researchers can evaluate their methods and build up the infrastructure, and agriculture researchers can benefit as well. This project is a joint activity between groups from all over campus."
Some of the groups Chowdhary referenced include multiple units within the Grainger College of Engineering, the Center for Digital Agriculture, the AI Institute for Future Agricultural Resilience Management and Sustainability (AIFARMS) led by CSL's Vikram Adve, and the College of ACES. The funding for IAF comes from an additional university entity, the Discovery Partners Institute. The collaboration and investment from across campus shows how important these efforts are to the future of agriculture, an industry that contributes more than $19 billion to the state of Illinois' economy annually.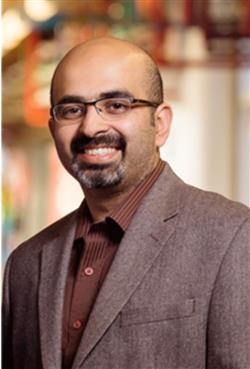 "Agriculture relies a lot on intensive management of areas of land. We used to do all of that manually, but in the last 30-40 years we've been trying to use chemicals," said Chowdhary, who holds an appointment in aerospace engineering. "While chemicals are simple to use, especially at a large scale, we're now seeing bad effects from overuse. The idea behind our work is that if we can create robots that do some of the manual work, like mechanical weeding, that will help us create more alternatives to chemicals."
Autonomous technology could help a variety of farmers, from thousand-acre operations to neighborhood urban farming. For the commodity crops that cover most of Illinois' rural landscape, groups of autonomous robots could weed and spray under the crop canopy or plant cover crops before harvest takes place, improving the efficacy of the practice. While it can help farmers who plant soybeans and corn, another motivation of this work is to help diversify the crops planted throughout the state of Illinois. If robots could take on some of the manual labor needed by horticulture crops like vegetables and berries, this would allow farmers and urban gardeners alike to grow these specialty crops without a large labor investment.
In addition to helping the crops themselves, autonomous technology could also benefit the soil in which they grow. The IAF group is working with Supratik Guha and Roser Matamala of the Argonne National Lab and the University of Chicago to create underground networks of sensors that can go into soil and determine potential issues before they have an adverse effect on the crops.
"The overall goal of our work is to improve sustainability in agriculture by replacing chemicals with mechanical alternatives where we can, reducing chemicals where we can, and increasing diversity and productivity of Illinois agriculture by using robots," said Chowdhary.
The IAF team consists of a number of researchers already involved in AIFARMS, including Chowdhary, who is an Associate Director of Research on AIFARMS, as well as CSL's Narendra Ahuja (ECE), Katie Driggs-Campbell (ECE), Saurabh Gupta (ECE), and Kris Hauser (CS), along with Salah Issa (ABE), and Girish Krishnan (industrial and enterprise systems engineering). Additional partners on this project include Earthsense, Microsoft Farm Beats, the University of Illinois Chicago, and the Illinois Specialty Growers Association.
Chowdhary is affiliated with the Beckman Institute and the CSL.
Read the original article on the CSL site.