Illinois ECE alumnus gives back to Champaign community through startup
Illinois ECE alumnus Danny Gardner's (BSEE '17) Mesh++, a startup that came out of the University of Illinois startup ecosystem and graduated from EnterpriseWorks, was part of a collaborative effort to provide wireless Internet connectivity to Champaign Unit 4 students living in the Shadowwood Mobile Home Park.
The partners include Ameren Illinois, which is a division of Ameren Corporation that also has a presence in the University of Illinois Research Park.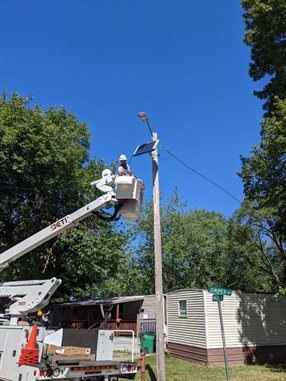 New wifi equipment was installed in Shadowwood to have the equipment fully operational to support online learning by the start of the fall semester. The City of Champaign coordinated the project with cooperation from Unit 4 Schools, i3 Broadband, Mesh++, Ameren Illinois, and Shadowwood Mobile Home Park.
"Helping bridge the digital divide by providing free Internet service to our underserved students to facilitate distance learning has never been more important than it is right now. I applaud everyone who quickly pulled together to make this project possible and wish all our students the very best as we kickoff a very unique school year," Champaign Mayor Deborah Frank Feinen said in a news release.
The project provided wifi Internet connectivity for Shadowwood's students to Unit 4 School's online learning applications. This was accomplished utilizing mesh-network wifi technology developed by Mesh++.
Mesh++ spent a year at the EnterpriseWorks incubator, leaving in 2018. The company participated in various University of Illinois Urbana-Champaign entrepreneurship ecosystem activities, including placing as a finalist in the Cozad New Venture Competition and going through the iVenture Accelerator. It also received investment from Illinois Ventures.
Now headquartered in Chicago, Mesh++ is led by president and CEO Danny Gardner.
Underlying fiber connectivity for the project will be provided by i3 Broadband, who has waived all recurring fees for connectivity associated with this project while it is used to provide student access to online learning. Ameren Illinois also assisted with the project by allowing the mesh-network equipment to be mounted on its light poles. Ameren Illinois and the City of Champaign each provided bucket trucks and personnel to facilitate the equipment installation.
Read the original article on the Research Park site.