Q: What is your area of expertise?
A: I work in communications, which is the study of how information flows from once place to another. Since the start of my career, I have worked in wireless communication. My textbook, Fundamentals of Wireless Communication, (Cambridge University Press, coauthored with D. Tse) is used at most of the top schools and all over the world.
One of the major themes of my research is understanding the fundamental limitations to reliable wireless communication. The technology has some physical constraints: there can only be so much bandwidth and battery, for instance. I aim to understand the physics of the problem, in order to understand what prevents the user from getting the best possible performance. I also want to pushthe limits of improving wireless performance. I am interested in setting the gold standard, and in achieving it.
In the last two or three years, I have extended my focus to other areas in the realm of communications, particularly Big Data and data privacy.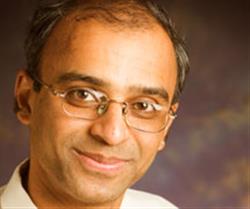 Q: Can you give me a brief synopsis of your education and career?
A: After finishing my undergraduate degree in India, I attended University of California, Berkeley. I earned my PhD in 2000, at the height of the dotcom boom. I was at a wireless startup in New Jersey, and after about a year and a half, I came to Illinois.
Q: You've been at Illinois for 13 years. What do you enjoy most about being here?
A: Without question, the students and the colleagues. We are a top-brand department, and our group is as strong as any in any school. The students know that. It's a pleasure and privilege to work with such strong students and such good colleagues. And, the town is such a nice place. It's great for doing research.
Q: How did you become interested in communications?
A: When I first went to Berkeley, I intended to study machine learning. But I looked around found myself , more interested in wireless. It involved subjects I was interested in: math, science, and practical value. I wanted to make an impact on the world for many people. Wireless certainly made an impact. In 1995, few people had cell phones. A decade later, practically everyone in the world had one. It's incredible to see how much our research has made an impact on the real world.
Q: Is there a current project you're particularly excited about?
A: In the area of data privacy, my group is working on a peer-to-peer networking system called Dissident Networks. Some governments are very authoritarian – Syria, Iraq, Turkey, and China, for instance. They monitor what their citizens do, and they can even shut off access to social networks. We're trying to build a peer-to-peer system that's essentially a wireless mesh network. We will have a networking layer that allows you talk to other users, whom we call dissidents. That's a term you hear in discussions about Syria and Iraq. They are people fighting an authoritarian government. We want to build methods that allow users to broadcast a message that can't be traced back to them.. We are building protocols that give each user clear deniability, so as far as any authoritarian governments know, the message sender could just as well been another of the other 1,000 people who received the message.
Q: You've received many awards and honors during your career. Of which are you the most proud?
A: One of my PhD students recently interviewed all over the country, at places like University of California, Berkeley; Caltech; and Cornell University. He received several offers from prestigious institutions, and he accepted an offer with University of Washington, Seattle, as an assistant professor. Many graduates from my group go on to top schools. It's a privilege to have such smart students, and to see them interview at and receive offers from the top schools in the country. These may not be direct awards for me, but I think of it as a validation of the energy and time I put toward my students I am proud of the work we do and see it validated by peer institutions.
I was also recently listed on the Thomson Reuters list of Highly Cited Researchers 2014. I was surprised that there are only seven researchers from Illinois on it, and I'm the only one in electrical engineering. It seems impossible that no one else in the department is listed, considering I have such distinguished colleagues.
Q: What does the future hold?
A: Working in communications, it's tremendous how quickly things change. Two decades ago, there essentially weren't cell phones or the Internet. Technology develops incredibly quickly and becomes a part of life. We think of cell phones and the Internet as utilities now, like electricity. They are that critical. It is a human need to communicate, and we're in an amazing civilizational moment in which humans have easy and cheap access to the entire knowledge base of the world. Such a thing has never happened. As more people plug in, that will only become truer. The real challenges are to create the necessary algorithms to make these kinds of things happen in a scalable way. The planet contains six or seven billion people, and almost everyone will have access to these communication channels. To scale it to that level, we need to formulate and validate the correct algorithms, ideas, and engineering.
Q: What do you hope to accomplish with your research?
A: Communication empowers people. Having a phone can lift someone out of poverty. A colleague of mine told me that, across the world, a phone is the third most common item for a person to carry, with only clothes and money being more common. In some places in Africa, it is actually the second most common object, after clothing. Citizens don't believe in their banks or their government. They would much rather believe in Vodafone. For example, if you want to buy a goat, someone may sell it to you for 140 telephone minutes. You go to the phone company's booth, and they transfer the minutes to complete the transaction. The minutes function as money. People believe the phone company will last longer than their government will. In other words, these communication technologies are an essential aspect of our civilization that touch people in so many ways. My goal is to make the algorithms work, so that they can become even more reliable and ubiquitous worldwide.