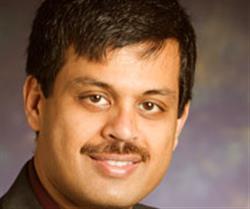 Q: What is your area of expertise?
A: Communication networks. I work on designing distributed algorithms for the Internet and wireless networks.
Q: Give me a brief synopsis of your education and career.
A: I got my bachelor's, it's called a B-Tech, bachelor of technology, at the Indian Institute of Technology Madras, India. And I got my master's and PhD from Illinois. I worked at AT&T Bell Labs (in New Jersey) from 1991 to 1995. I was in the Department of General Engineering (at the University) from 1995 to 2003, and I've been in ECE since then.
Q: Why did you become an engineer?
A: I liked math and physics as a student. And growing up in India, everybody tells you that you either have to be an engineer or a doctor. I didn't want to be a doctor. I like technology.
Q: Tell me about a research accomplishment you're proud of. How did this work impact society?
A: I've worked on two major topics recently. One is resource allocation in the Internet. Many people use the Internet at the same time and so we need protocols to fairly allocate the available resources among competing users. Recently we have developed such a protocol called TCP Illinois, which was jointly developed with graduate student Julian Shao Liu and ECE Professor Tamer Basar.
The other thing I've been working on is distributed algorithms for wireless networks. In the future, I think that everything in the world will be connected by wireless devices. All the devices might try to communicate at the same time. You need mechanisms, protocols, to arbitrate who gets to talk at what time. We're developing a suite of protocols for this purpose, and we have a DARPA [Defense Advanced Research Projects Agency] project funding this effort. We're hoping to implement these ideas in a real system.
Q: What do you enjoy most about teaching?
A: I love teaching. I don't know what I love most about it. I just really enjoy it. I like interacting with students. I like both teaching in a classroom as well as one on one teaching, when I interact with my grad students. I think there's something fresh about teaching in the sense that every semester you get a new set of students, and every class is different. There's always a new challenge.
Q: What role do students play in your research?
A: My graduate students get their master's and PhD doing research on the topics that I mentioned earlier. I closely work with them. Usually we don't bring a finished project into the market, but we develop algorithms, which protocol designers use to develop the protocols.
Q: What are you focused on today?
A: Even though I have worked for quite some time on Internet and wireless networks, there are still a number of open problems. In particular, I would really like to develop algorithms that improve the quality of service that people get from these networks.
Q: What technology that's currently under development are you most anxious or excited to see completed?
A: I would love to see everybody have a small device in their hand that they can use for everything, all of their communication needs, surf the Web, talk on it, watch movies, etc. I know there are devices like that already in place, but they are far from perfect. I think it's something that would be great for everybody. I think it requires research from a lot of different people, and my own research is just one component.
Q: What else do you hope to accomplish with your research?
A:
In the last 15 years or so, the Internet has really expanded and has penetrated everywhere, but I still think that there is a long way to go, especially since the merger with wireless capabilities is not complete. I think that there is a lot to be done in that area. It's still not accessible to everyone in the world. Lots of parts of the world are not fully penetrated, and I'd love to see how things look 20 years from now.