Solar Decathlon depends on teamwork
ECE News
Laurel Bollinger, ECE ILLINOIS
9/10/2009
Story Highlights
Illinois is one of 20 teams competing in this year's Solar Decathlon
Illinois' entry is a collaboration between students in engineering, ECE, and architecture.
Last Solar Decathalon the Illini placed ninth overall and first in "market viability."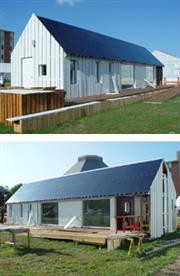 The University of Illinois is one of 20 teams competing in this year's Solar Decathlon, a biannual competition that brings together teams from all over the world to design, build, and operate solar-powered houses. For Gable Home, the Illinois entry, students from across the university are taking part, including students from ECE and other engineering departments, as well as students in architecture.
Student project manager and architecture graduate student Joe Simon said that he is excited about what the Illinois team has done so far; especially with the lengths they've gone to use innovative materials and ideas.
"The design we came up with is kind of this Midwest vernacular," said Simon. "It resembles an Illinois barn house but more modern and cleaned up." The house incorporates some newer innovations. "We are using more innovative materials such as Lamboo, a laminated form of bamboo that is thinner and more sustainable," said Simon. The team has also focused on incorporating reused wood from around Central Illinois. They have wood from an old silo near Springfield as well as a torn-down barn near Rockford.
However, the project would be doomed without the many teams of students. All told, more than 200 students are involved in the project. Simon said that the collaboration among participants was great and that the process was more educational for everyone involved. "It has been a lot of joint learning among all the teams but everyone has been very open to communication," said Simon. "There have been a lot of late night meetings but it is all working out."
Simon said that there has been a lot of collaboration between the groups working on the project. Everyone has worked well together and has been following the timeline that they all set for themselves.
ECE graduate student Sairaj Dhople, who is the electrical engineering lead on the project, said, "Currently, the electrical team is focused on getting the control and monitoring system up and running. The idea is to have a house 'smart' enough to make suggestions and decisions that would aid in minimizing energy use. Engineering the enabling technology is just one half of the concern. Equally important is relaying the information to the home owner in a format that is customizable, easy to understand and empowering."
Overall, the Illinois team is confident in their chances for a strong showing at the competition. Simon said that many people are expecting Illinois to be a top contender. "There are a lot of people who honestly expect us to win. We're in the top five, so we're at the top. And I think we can do it," he said. In 2007, Illinois placed ninth overall, but won first place for market viability. Since then improvements have been made.
Basically, their main worries are meeting all the requirements, which include throwing a house party, washing and drying 10 towels 10 times during the week, and running the dishwasher, a computer, and a TV--all the things a normal house would do during the week.
While the team is focused on putting forth a good showing in October, Simon noted that the community outside of the University has been a great contributor, and the team is hoping to be able to give back with the techniques they used on this house. "No one may go out and build as an exact replica of this house," said Simon, "but it may give people ideas that they'll take away. And if people are able to come away with one idea or two, it makes it worthwhile for us."
For more information on the Illinois Solar Decathlon team, go to www.solardecathlon.uiuc.edu.