Eberhard, Fuchs honored with Engineering at Illinois Distinguished Alumni Awards
ECE News
Meg Dickinson, ECE ILLINOIS
6/4/2014
Story Highlights
ECE alums Martin Eberhard and Kent Fuchs won Engineering at Illinois Distinguished Alumni Awards this spring.
Eberhard co-founded Tesla Motors and is an entrepreneur, and Fuchs is provost at Cornell University.
Both men credit ECE ILLINOIS for preparing them for successful careers.
Two ECE ILLINOIS alumni, Martin Eberhard (BS CompE '82, MSEE '84) and Kent Fuchs (MSEE '82, PhD '85), won Engineering at Illinois Distinguished Alumni Awards this spring.
Both say their time at Illinois served them well as they pursued their different careers. Eberhard is the founder of Tesla Motors and an entrepreneur; Fuchs is the provost at Cornell University.
Martin Eberhard
Eberhard
loves being connected to Illinois, even years after graduating. The coding languages and technologies he learned here served him well as a young man, but they've changed.
However, as he gets older, he believes Illinois also taught him how to "dig in and learn the core reasons for things," and adapt as technology changes.
"I'm surviving as an engineer on the kinds of things I learned here," he said. "My education has served me for a lifetime."
As he works in Silicon Valley, he meets plenty of engineers from other schools who brag on their educations.
"When I meet Illini, they're typically much more down to earth, and they're getting the work done," he said. "They're better engineers, but they don't brag about it."
Eberhard enjoyed his visit on campus this spring, saying he especially likes seeing the Bardeen Quadrangle ("It looks nice, but it's also well-named," he said) and peeking into labs to see what students and faculty members are working on.
Professionally, Eberhard is advising startups and is looking into starting another company of his own.
He feels strongly about encouraging women to get involved in engineering and working in technical fields - so strongly that he and his wife, Carolyn (BS Civil Eng '83), created a scholarship fund at Illinois for young women.
However, it's not just a problem at the university level - he believes it happens when girls are middle-school age, and suddenly stop competing with the boys in math and science. He has a daughter who's around that age, and he's encouraging her to stick with math and science.
"That girls can't do math is baloney," he said.
Eberhard also gave the Dean's Distinguished Leadership Lecture in Everitt Lab during his visit to campus to accept the award, where he filled the building's auditorium past capacity, and mesmerized an audience of students, alumni, and other guests.
W. Kent Fuchs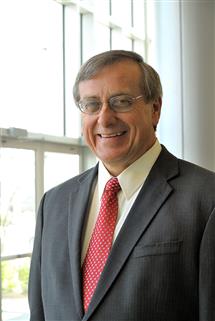 Fuchs
originally came to ECE ILLINOIS as a graduate student, after having earned his undergraduate degree in electrical engineering elsewhere and then going to seminary.
He'd decided that he wanted to teach at the college-level, and worked as a teaching assistant for the Senior Design Lab, but "learned a huge amount from ECE's really prepared undergrads," he said.
Illinois also instilled in him a love of scholarship, rather than just teaching.
"It really taught me what it meant to be a scholar and a researcher, and the joy of that," he said. "Being here, participating as a graduate student, writing papers and proposals and presenting my work, something that really sparked the joy and satisfaction and realization that I could actually do research as well."
He eventually earned his doctorate in the department, and became a faculty member. He later worked at Purdue as a department chair, and is now the provost at Cornell.
That experience at other institutions has helped him understand what makes Illinois special.
"The way the faculty collaborate together in groups of focused interest, around a research project or sometimes around a course, that's something I've worked to replicate as I've worked elsewhere," Fuchs said.
At a time when many are talking about the return on investment of a college education, Fuchs said the value of a degree from Illinois doesn't cost much more than, say, a really nice new car.
"But that one investment is for your whole life," he said. "It's not just the knowledge and skills, its' the networking, the friends, the people you worked with in your classes and your labs, where you live, people you have fun with. Those are relationships you'll have the rest of your life."
An Illinois degree is a tangible benefit on one's resume, especially if it's in ECE or another department in the College of Engineering, he said.
"Illinois faculty members are the ones actually out there creating the knowledge," he said. "They're setting the mileposts that others are following, and the students get to see that happening."
In classes, they're being taught by the leadership who are creating the knowledge that ends up in text books.
"There's a huge benefit in a student seeing that happen," Fuchs said, and he's found his Illinois degree and experience as a faculty member is an enormous advantage. "People immediately understand your background and abilities by the fact that you're associated with Illinois."