Zhong receives first Saladi undergrad research prize
ECE News
Jonathan Damery, ECE ILLINOIS
5/19/2014
Story Highlights
Yu Zhong is the first recipient of an undergraduate research prize established by alumna Indira (Gunda) Saladi (BSEE '90).
As an undergraduate, Saladi participated in research and considers it among her most meaningful undergraduate experiences. She is now the vice president and chief intellectual property counsel at Zebra Technologies.
Zhong conducts research with Professor Rashid Bashir, and for her senior thesis, she is using cleanrooms at the Micro and Nanotechnology Laboratory to fabricate silicon nanowires for biosensors.
Undergraduate research is a springboard. It launches students, providing them an opportunity to work side-by-side with faculty members and graduate students. It allows them to become fully integrated members of a lab, eventually taking on more responsibilities, running experiments, and participating in the quest for new understanding.
To recognize undergraduates who excel in this research setting, alumna Indira (Gunda) Saladi (BSEE '90), vice president and chief intellectual property counsel at Zebra Technologies, has established a new scholarship, the Indira Gunda Saladi Engineering Research Prize. It was presented for the first time this year to Yu Zhong,
a senior in electrical engineering who is conducting research with Bioengineering Professor
Rashid Bashir
, the department head of bioengineering and an ECE affiliate professor.
As an undergraduate at ECE ILLINOIS, Saladi pursued undergraduate research with Professor Wen-Mei W Hwu and was also an enthusiastic leader. Among those leadership activities, she was a student alumni ambassador, the vice president of engineering council, and a member of leadership honoraries Atius and Sachem.
"And of all of those things," she said, "it was the research that was really the most meaningful, the opportunity to work one-on-one with a professor in an academic area of interest."
Oftentimes, however, Saladi pointed out that undergraduate awards tend to prize leadership pursuits more highly than research, even when a student is a highly active member of a research team, running experiments and presenting at conferences.
"We don't encourage enough of that," Saladi said. "We reward activities, but I don't think that we reward research as much as we could. And this is just a small way on my part to encourage that."
Zhong, for her part, became involved in undergraduate research as a sophomore, and the following year, she joined Bashir's group, where she is now finishing her senior thesis. For that project, Zhong is using cleanrooms at the Micro and Nanotechnology Laboratory to fabricate silicon nanowire devices with high-k hafnium oxide dielectrics that will be the basis for ongoing biosensor development. These nanowire devices promise low-cost multiplexed detection and ultrahigh sensitivity, among other benefits.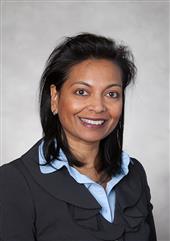 Zhong is optimizing the fabrication process to achieve the desired sensitivity and stability.
"The team is very dynamic," she said of her fellow lab members and mentors, who have backgrounds in various fields ranging from biomedical science to mechanical engineering. "I can learn a lot of stuff from everyone. It's very exciting."
After graduating from Illinois, Saladi went on to work as a computer engineer at Motorola, where she led the design of a handheld data terminal and designed a radio communications protocol.
"There definitely is a connection between ECE ILLINOIS and professional success," Saladi said. "The rigorous undergraduate experience prepares its students to succeed in tackling the challenges that arise in a professional career, whether that be as a practicing engineer in industry, in academia, or beyond. I don't think that any other engineering school does as good of a job of preparing its engineers as ECE ILLINOIS does."
That engineering foundation also provided the background needed for Saladi, upon graduating from the University of Chicago Law School in 1999, to work with engineers as an intellectual property attorney, primarily at Motorola and Motorola Solutions, before joining Zebra Technologies in 2012.
"The [Illinois] degree allows you to really take your career wherever you would like to take it," she said.
For Zhong, that means a career in research. In addition to the hands-on preparation, the lab experience has provided her opportunities to practice communicating that work to others.
"We have our own weekly group meeting," Zhong said. "Even though I'm just an undergrad, they still treat me as a colleague and give me the opportunity to present my results at the meeting. That feedback helps me adjust my research plan along the way and also helps me to do the technical presenting better."
At the undergraduate research symposium last spring, Zhong presented her junior-year research to students and faculty from across campus, including engineers, of course, and also psychologists and historians, entomologists, and political scientists. Even with such diverse attendees, Zhong discovered that the weekly lab presentations were a significant boon. She could easily modulate her message for the audience: technical for other engineers, synoptic for others.
In the future, as Zhong continues her research, first at graduate school, and then, perhaps, as a faculty member or as a research and development engineer in industry, there is no doubt that undergraduate research was the initial launching point, in the same way that Saladi's research background launched her into her own professional success in the law.