Students attend NSBE convention, win Best Small Chapter
ECE News
Mark Pajor, ECE ILLINOIS
5/9/2014
Story Highlights
Thirty-three Illinois students, including six ECE students, attended the 40th Annual Convention of the National Society of Black Engineers (NSBE).
In recognition of Illinois students' commitment to programs that positively affect the community, the Illinois NSBE chapter was named Best Small Chapter of the Year.
The convention provided students with invaluable career-building opportunities, and many students left the convention with interviews, internships, and job offers.
"If you watch the news, you don't necessarily see many minority professionals," said Junia Findlay, a senior in electrical engineering and the technical chairperson of Illinois's chapter of the National Society of Black Engineers (NSBE).
"When you go to a NSBE convention, you see so many professional engineers that are of minority backgrounds, all in one space," Findlay said. "You get that exposure and you really get motivated. It's like: this is doable. I can do this."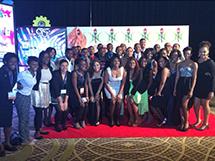 Thirty-three Illinois students attended the 40th Annual Convention of the National Society of Black Engineers in Nashville, Tennessee. Six ECE students represented the department and gained invaluable opportunities to speak with employers about internship and job opportunities. The Illinois chapter was named NSBE Best Small Chapter of the Year.
The NSBE best chapter awards are offered to chapters of various sizes whose programs and activities best contribute to NSBE's mission "to increase the number of culturally responsible black engineers who excel academically, succeed professionally and positively impact the community."
"We have high school visitations, when we bring down students from different high schools to view the Illinois engineering experience," said Temitayo Ade-Oshifogun, a senior in electrical engineering and former vice president of the Illinois chapter.
The Illinois chapter holds these visits twice a year. In the fall, they invite younger high school students, particularly freshmen and sophomores, to spur their interest in engineering, college, and Illinois. The spring visit is focused on seniors who have already been admitted to Illinois, who may not have yet committed to attending the university.
"They come here, and they usually get swayed to become students here," Ade-Oshifogun said.
"Our other programs include mentoring, A Walk for Education, Relay for Life, workshops for resumes, and career-building study workshops," Ade-Oshifogun said. "We have a lot of programs that help our students maintain their grades and make sure they are understanding course material."
The convention, which was in March, included various workshops to help students develop their professional skills and find opportunities in their areas of interest.
"With the amount of workshops and presentations, the possibility of getting a graduate degree or starting your own company seems like more of a reality instead of just a dream," said Jonathan Buie, a senior in electrical engineering and the external vice president of the chapter.
Companies at the convention participated in career fairs, and many also hosted hospitality suites and after-hours events, which provided students with more casual networking opportunities with professionals.
"There were numerous opportunities for college students to develop themselves professionally and talk to multiple companies for internships or full-time positions," said Pierre McCauley, a freshman in computer engineering. "It was my first career fair."
Many of the ECE ILLINOIS students were invited for job interviews at or after the convention. Ade-Oshifogun received a summer internship with Johnson Controls. Findlay landed a full-time position as a field service engineer with Eaton Corporation.
The NSBE UIUC Tech Team participated in the Boeing Flight competition, where each team attempted to create a cardboard plane that could fly as far as possible. As technical chairperson, Findlay was responsible for forming the Illinois teams. He gave many of the leadership opportunities to underclassmen.
"Freshmen and sophomores don't usually get that project-based experience until they are older," Findlay said. "I wanted to expose them to that leadership experience so they can become more appealing to these companies when they go to career fairs."
"Our planes flew exponentially further than when we have competed in previous years," said Kenya Ansah, a junior in electrical engineering and the secretary of the Illinois chapter. "We will continue to compete and improve our methods in the future."
Beyond the structured events and specific opportunities at the convention, ECE students expressed their belief that the atmosphere of the NSBE convention and the organization in general have been fundamental to their success as students and their future success as professionals.
"Being a part of NSBE has opened many doors for me, and has allowed me to make many professional connections that will be of great use when I begin looking for work," said Jasmine Chapman, a junior in computer engineering.
"There is comfort and motivation in knowing that there are people who share your story and have become truly successful," Ansah said. "Attending these conventions always pushes me to strive for excellence."