ECE Professor Bernhard, students host engineering field trip
ECE News
Charlie Johnson, ECE ILLINOIS
10/28/2009
Story Highlights
Prof. Bernhard hosted a field trip for local students.
Students studied waves, electromagnetic spectrum, and visit the anechoic chamber.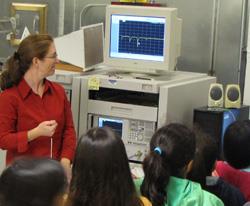 Earlier in October, 38 members of the Science and Engineering Club from Champaign's Countryside School paid a visit to Everitt Lab as part of a field trip hosted by ECE Professor Jennifer Bernhard and Lisa Dhar, senior technology manager for the University's Office of Technology Management. The visit was titled "What's Behind our Wireless World?" and focused on enhancing the students' understanding of wireless communication technologies such as antennas and wireless Internet.
"In the activities, we discussed what the electromagnetic spectrum was, explained transverse and longitudinal waves with the help of jump ropes and Slinky toys, and demonstrated how electromagnetic signals are spread in space depending upon the traits of the antennas used," said Bernhard. "They also asked some very insightful questions and all the children enjoyed making their own antennas."
The students also got to visit ECE's anechoic chamber, a room designed to suppress sound or electromagnetic waves. To do this, the walls are lined with blue, triangular foam spike-like objects that give the chamber a bizarre, futuristic appearance. "Of course they all loved going in the anechoic chamber. Everyone thinks that's cool," said Bernhard.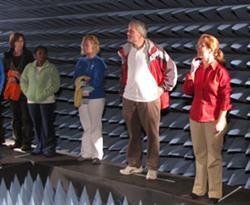 Many of the demonstrations for the trip were designed by undergraduate student Louis Margono, and several of Bernhard's graduate students were on hand to assist in the presentations and demonstrations.
"I couldn't have pulled it off without them!" said Bernhard.
The field trip was the first of its kind for Bernhard, who is considering including a similar event in Engineering Open House this spring.