ECE Award Winners Propose Solutions in Green LEDs, LED Color Quality, and Solar Cells for Space Exploration
ECE News
Ryann Monahan, ECE ILLINOIS
6/11/2019 1:08:01 PM
Story Highlights
New ECE ILLINOIS research is advancing Green LED technologies, proving new possibilities for the emission of color in a single LED, and exploring new designs for solar cells for a mission to Jupiter.
The work was part of ECE ILLINOIS' LEDs and Solar Cells (ECE 443) course. The advanced course in energy and conversion partners with companies such as Crosslight and MicroLink Devices to give students hands-on learning opportunities to work with the company tools in an academic setting.
Three "Best Project Awards" were given out during the spring 2019 semester. The 2nd Annual Crosslight Best Project Awards were given to two students who each received $1,000. The inaugural MicroLink Devices Best Project Award was given out to one student who also received $1,000.
The Crosslight Best Project awardees for the spring 2019 semester included ECE ILLINOIS graduate students Yi-Chia Tsai and Shreyas Kane Dmello.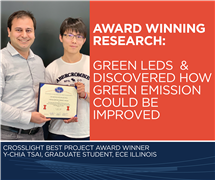 Tsai's award-winning project "Investigation of the Impact of Polarization and Auger Recombination on the Wurtzite and Zincblende GaN-Based Green LEDs" investigated the under-developed area of green LEDs and discovered how green emission could be improved. The goal is to close the "green gap" in the visible spectrum for halving the lighting energy use.

"Tsai has shown that novel zincblende LEDs are better for green emission than conventional wurtzite LEDs," Can Bayram, course director and assistant professor in electrical and computer engineering explained.
Dmello's project "Design of Monolithic White LED Using InGaN/GaN/InGaN MQW Structures" is evolving the capabilities of color emitters in single LEDs. Conventional white light generation is enabled through use of discrete blue, green, and red LEDs. This project is aimed at creating an integrated emitter where three color emitters are embedded in one single LED. "This reduces the overall volume and provides injection-dependent control over color quality," Bayram explained.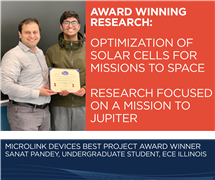 The MicroLink Devices Best Project award was given to ECE ILLINOIS undergraduate student, Sanat Pandey. Pandey's project "Ge/GaAs/InGaP Triple-Junction Solar Cells for Space Exploration" explores the optimization of solar cells for missions to space. Pandey's project investigated the available sun spectrum in space as it relates to designing high-efficiency solar cells. The research focused on a mission to Jupiter. "Space exploration is underway at all times. Pandey's research detailed the pros and cons in the design and reported guidelines of high efficiency solar cells for a mission to Jupiter," Bayram said.

"In this course, students gain both simulation and experimental device characterization experience on LEDs and solar cells and understand how and why theories may fail in predicting real-life device behavior. The project component is very special as students design and simulate a unique LED or a solar cell – using industrial Crosslight software – to fulfill a societal or technological need they identify." Bayram added.

MicroLink Devices specializes in metalorganic chemical vapor deposition (MOCVD) growth of semiconductor structures for use in wireless communications devices and in the growth and fabrication of advanced solar cells for space, unmanned aerial vehicle (UAV), and terrestrial use.

Crosslight Software Inc. is an industry leader in TCAD (Technology Computer Aided Design) simulation tools headquartered in Vancouver, Canada. For almost twenty years, Crosslight has been dedicated to providing state-of-the-art TCAD simulation tools for semiconductor devices and processes.

More information can be found here